Wednesday, April 25, 2007
Seedling update!
The tomato plants are outside and are itching to go in the ground. There is also a melon plant (rockmelon, or cantaloupe, whatever, a charentais) and several more gherkins.
There are a few lettuce that really should be planted out but I think that from now on I will sow lettuce seed straight in the ground. On the whole, seedlings are a failure (note for next year!).
Sweet pepper doing well - there are about a dozen seedlings that I need to transplant to decent sized pots.
My Qld Blue pumpkins are starting to show! I am so proud!
My Brussels Sprout seeds have sprouted into cute seedlings. They have funny rounded leaves. I have never grown cabbagey type things before, this will be an interesting experience.
Need to go get some potting mix from the allotment as I have 25 MoneyMaker tomato seeds to pot (trying a later harvest of those...) and I want to try potting some flowers both for the garden and the balcony.
Now I see that the seeds are so easy to do, I think I will pot up a few and give them away to some friends with gardens.

Monday, April 23, 2007
Another stressful weekend. I had another run-in with Old Fart (Plot supervisor, previously accused of disappearing with some of the fund-raising benefits of the garden association, see previous posts), who said (I quote) that my plot was a tip that that "I wasn't going to do it". You should have taken a half-plot he said. I told him that I was told that I couldn't. He didn't believe me. I said well, I am certainly not taking a half-plot now that half my crops are in and the other half are waiting. He made a gesture towards the other plots and said"Well, you can see quite clearly that they don't look like yours (which is currently covered in cardboard and newspaper untill I can dig, weed, plant and mulch the tender veg and beans). I was furious, I replied (probably too loudly) that I was sorry I was not an elderly retired person who could work every day on their plot but that I considered I had done a lot of work, a lot was planted and I was simply trying to stop the weeds growing. "You must dig them out and that's all there is to it," he said, but I will look in the rules and see if there is a particular way you have to garden. "You'll be getting a warning letter," he said over his shoulder to which I sweetly replied "Just send me the letter, I am waiting with baited breath to read it." By the time we have argued about it, I will have had my holidays and the beans, tomatoes and other veg will be in and he will have to eat his words. But I was seriously upset and spent most of the time weeding my pea seedlings in tears.
I didn't remove the cardboard.
Instead I filled another black bag with weeds and dug my first bean bed, two rows of French dwarf beans, and another row where I planted my courgettes, 4 gherkin plants and I also planted a little bit of radish. I added a few more peas where the rows seemed to have gaps.
The potato bin is going great guns!! I added more fill, a mixture of peat, compost, soil, and my horse-stable waste. It would be so funny if I got it to grow.
Just when I had given up hope on the parsnips, I spotted ONE seedling, thanks to a photo posted on Allotments 4 All - so if one has made it, there may well be others. So I refrained from digging that plot over again and I will wait. Also suspect some of the carrots are starting. Yippee! About time, they have taken bloody ages.
Labels: potato, shit_happens
Friday, April 20, 2007
A non-gardening entry: just a big thank you to Dandelion from Allotments4All who sent me 3 lovely Queensland Blue pumpkin seeds. These are enormous blue-grey pumpkins that grow in my native Queensland and which I haven't eaten for many a moon. They keep well and have succulent orange flesh. They have been duly planted and I hope that soon I will see them germinating so I can post a little piccie of them.
Yesterday I asked the farmer at my organic veg delivery what were the pumpkins that we ate last season, as they were delicious. She informs me that we had Potimarron, and a "Longue de Nice" which is a long butternut style. I know they also grew Sweet Dumpling variety but the only time I took one it went bad so I don't know what they taste like.
The seedlings are doing well, maybe too well - the good weather should last for many days yet according to the weather bureau and the courgettes are getting out of hand so I think that tomorrow might be moving day for those. I might try one or two of the tomatoes and see how they get on. I am a bit nervous of putting them all out in case the weather turns cold.
Labels: courgette, pumpkin, tomatoes
Thursday, April 19, 2007
Anyone else having trouble with Allotments4All today? Their site seems to be down and I quite like having a peek at the forum during the day. I have been trying since this morning... :-(

Wednesday, April 18, 2007
The gardening gods have well and truly shat on my head. I have bindweed, or so I am told.
I went this morning to examine this more closely and saw little heads of it creeping up in the spinach and pea patches. The sneaky bastard... So I spent about 20 minutes pulling it out of the more critical zones and this weekend I will head down there and set about it in a more military fashion. TAKE NO PRISONERS!!!!
I dunno, last time i saw bindweed it was bigger with pretty flowers but maybe this is what the seedlings look like?
Refuse to use roundup made by a chemical company surrounded by nasty rumours. So will have to resort to mindless physical violence on it instead.
Still, there is some good news:
Spuds are coming up with a vengeance. They must be liking this warm patch.
Spud barrel is working. Put some more compost in it (actually a mix of peat, potting mix and horsey pooey stuff).
Planted some tarragon seeds.
Only one of the lettuces has died or been eaten by something so quite pleased. The others seem to be growing.
Peas are coming up.
Tomatoes, courgettes and gherkins are thriving outside in my sheltered planters. Ready to plant in a week or two.
Some nice lady in the UK has promised to send me some seeds for
Queensland blue pumpkins
. I hope they grow, then I will have a little bit of Australia in the garden! Of course they get huge so will end up giving them away probably :-D But the flesh is delicious and they suit dry conditions well.
AND A DRUM ROLL:
Harvested my first crop! OK, 5 teeny tiny radishes. But I will savour them with delight.
Labels: bindweed_hell, harvest, lettuce, potato, pumpkin, weeds
Tuesday, April 17, 2007
OK, who wants to identify some weeds?
I managed to photograph some of them, maybe someone will be able to tell me what the hell they are and how to get rid of them.
This is the peskiest, seems to get everywhere: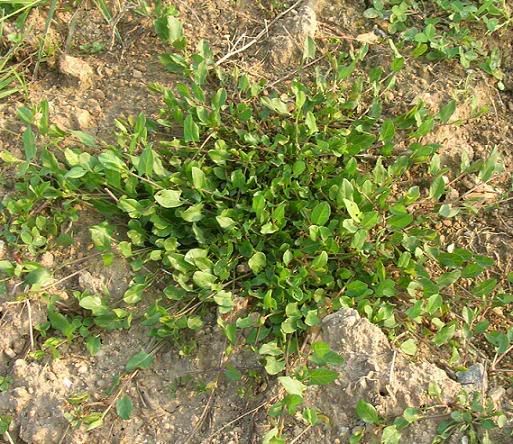 These are too quite prolific: think they are a sow thistle?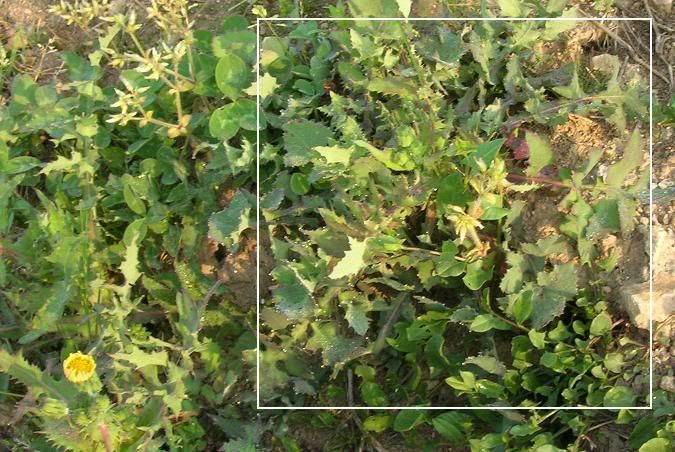 And these skinny things with yellow flowers:
Now I know this is a weed but I think it is quite pretty; but what is it?
A Mars Bar to the best answerer ;-)
Labels: weeds
Lightning quick visit this morning to water - it has been so hot...
Pulled a few weeds out of the strawberries! The little sods! They have made their way out of the plastic! Think I got them all out though. The strawbs have flowers, at least the earlies. And they were being visited by...an ENORMOUS bumble bee! Pollination is in the air.
I took some piccies so the blog will be very colourful by this afternoon. Took pics of my weeds!
The peas are coming up! So thrilled. Of all the veg that I really want to succeed, it is the peas and the toms because they are so tasty fresh!
I have been on the forum at
Allotments4All
and their enthusiasm is uplifting! Given me lots of plans...
I have decided that it would be nice to have some pumpkin. It will use up some space and is such a delicious vege, and so hardy.
the potato barrel seems to be working - I leaned it over a bit so it gets some more sun inside, as the spuds are a fair way down in it. They are getting leaves. During the week I will pop down and put some more compost on them.
Look at the garlic and onions: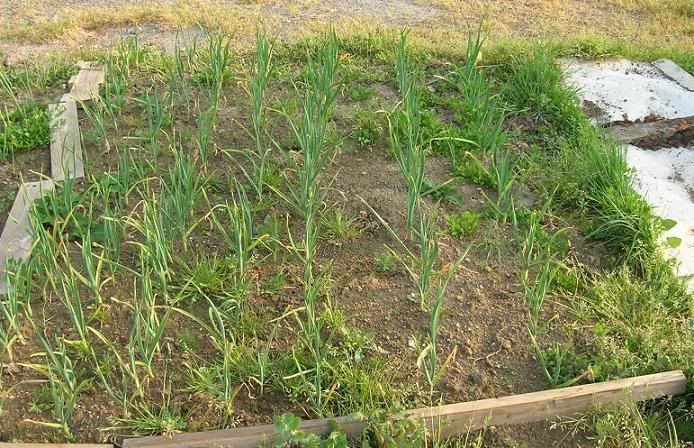 I am quite proud of them.
Here is what the whole shebang looked like this morning. Doesn't seem much for 3 months work, but well, one day at a time.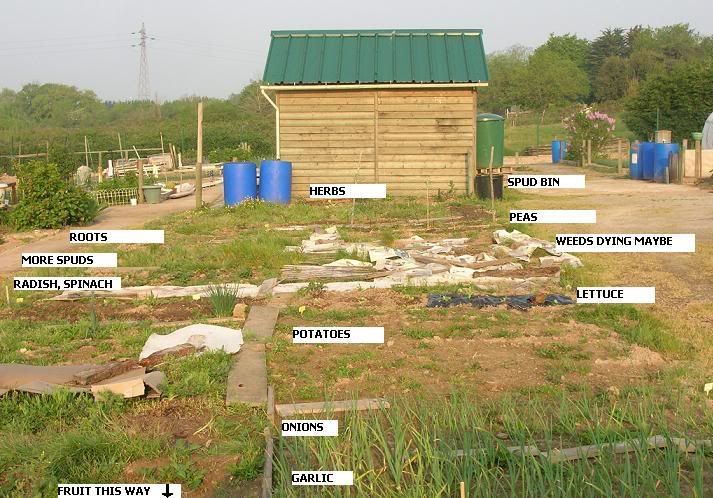 Once again photo is crappy for labels. Think you can open the original though...
Labels: peas, potato, spring, strawberry
Monday, April 16, 2007
Went down yesterday but had a splitting headache so ended up not staying that long. Covered the to-be-beans plot with newspaper, weighing it down with wood and clumps of weeds from other bits of the plot.
Got some very odd looks from the others...but no comments. If it kills enough of the grass and weeds off to put the beans in, then that will be enough for me.
There is a old fella on our lots that has a rotovator and will run over the plot for a few beers - I feel I may have to cave in and get him to at least rotovate the part where the toms, courgettes etc will go, as I can't see myself managing to hand dig all that in a fortnight's time. Even if it might spread the weeds, I might have had time to mulch and black plastic the crops by then. I put a massive bit of cardboard over some of it, maybe that will kill enough weeds to let me get the tomatoes in??
I also weeded the herb garden, looks much neater now, planted some coriander seeds in it and...planted a row of sunflowers! Oh bummer, I labelled the picture but it isn't very clear...
The lettuce plants look OK, a bit wilted but I watered them well and it is cooler today.
The potatoes are starting to show their leaves, and in the barrel too!! but I won't cover them until they are a little bigger than now. (you can see the spud bin on the pic above)
From the flowers we planted I can only see the nasturtiums starting to come up... Still no sign of the carrots, parsnips, beets...
Purchases this weekend:
a melon plant (yeah, yeah, experimental again, I seem to have space to spare so I will try one plant and see how that gets on)
2 more tomatoes, a Coeur de Boeuf and some other "grappe" variety
seeds: green broccoli for early summer, brussel sprouts to start off the winter and autumn crops, and some Pot Marigold, that I put in the ground yesterday.
In the seedling department, the tomatoes have gone outside into the planters to get used to the big wide world. The gherkins need repotting and the sweet peppers seem to be sprouting!! Good news.
Labels: potato, spring, sunflowers, tomatoes, weeds
Wednesday, April 11, 2007
Omg just completely f****ed up me blog! I have lost all my side links :-(
If any of the regulars are reading, like Bean Sprouts, could you send me yr blog links again please?
Yet another reason to hate HTML....
Labels: shit_happens
A mixed weekend for the allotment. I went down on Saturday but didn't have loads of time.
What is doing well:
Fruit: all the "twigs" now have leaves !! The strawberries have flowers too, at least some of them.
These are the gooseberries: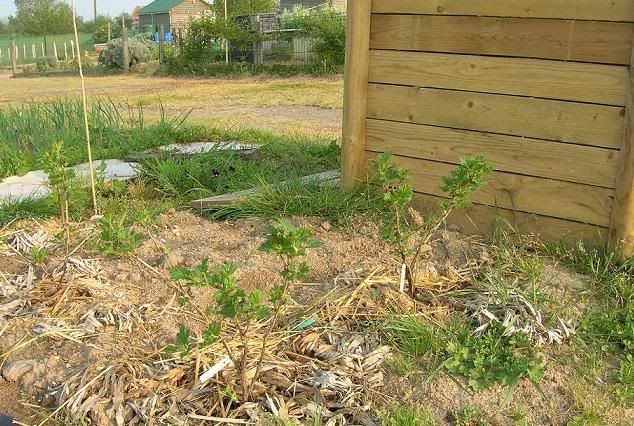 And here are the strawberries: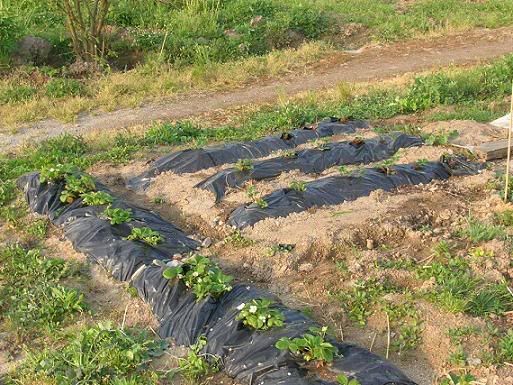 Spinach: The seeds seem to have germinated at least. A few little heads here and there.
Second lot of radishes: Poking their heads out.
Peas: The first batch have finally sprouted.
Potatoes: The early ones I planted seem to be growing some good leaf heads. Let's hope that below ground it is the same story!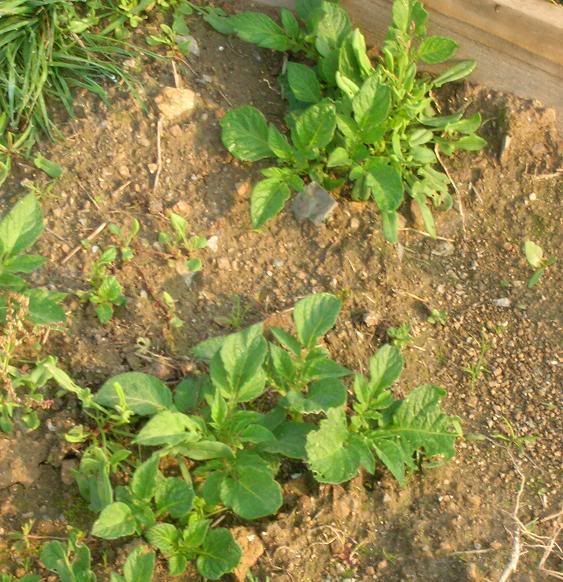 Herbs: The mint and thyme seem to have taken off, and I have discovered some lemon balm growing in the herb bed!! So I will let it grow. I will give the herb bed a bit more attention next week, as it looks quite pretty really.
What is worrying me:
Lettuce: I took my lettuce seedlings down and planted them but when I went to check on Monday they all looked dead :-( I will have to check my technique, maybe I did something wrong.
Second potatoes: the ones I planted with Biggest One haven't given much signs of life yet. Wonder how long they take to show their heads?
Carrots: No sign of germination yet. I planted another row in case.
Parsnips: No sign of germination yet. I planted another row in case.
My barrel o' taties is just sitting there but I guess I can't expect the potatoes to rear their heads after just a few days!
I watered everything, as it has been dry and sunny here. Perhaps this is just a praying period garden wise???
Splurged out on 2 courgette, 2 cherry tomato and 2 Roma (egg) tomato plants and a tray of lettuce, to compensate for my pathetic seeding efforts. I have another tray of lettuce sprouting in the kitchen!! Hope they are not doomed to death too?
Indoors, the tomatoes are coming along marvellously and so is my pot of coriander. The gherkin seeds have sprouted and I will quickly transplant them into little pots I think. There are about 15! I will never be able to plant all of those!! I guess I will give them away. Still waiting for the sweet pepper seeds to sprout though.
I really need to get stuck into a weed control plan and start preparing the spaces for the beans and tomatoes as time is slowly creeping forward.
Labels: fruit, herbs, potato, seedlings, spring, tomatoes
Friday, April 06, 2007
The fine weather here has me just hankering to plant things! Went mad for my balcony last night, dragged in all the pots and containers and pulled out any straggly things left from last year, then I dug out half the soil and replaced it with new fresh potting mix and proceeded to plant
10 geraniums, dunno what colour yet,
the sparaxis bulbs I got for free (wonder if they will ever see the light of day),
a packet of what was termed as "Summer flowers for balconies",
some leftover seeds of chives and parsley,
a couple of nasturtiums.
Gave it all a good watering, now let's wait and see what I end up with!!
Also went to get my organic veg and had forgotten that there was no distribution this week :-( But since it is at the horse racing track, I took advantage of the lack of people to dive onto the pile of horse pen waste that was there. Not a great deal of actual poo, but quite a lot of very humid straw, wood-waste bedding and no doubt horse pee. Seems organic, that should do the trick. I managed to snaffle three big bags of the stuff. Hope to God no one saw me digging around in a big pile of s**t.
I will dig it into the remaining beds this weekend and see if it helps anything. Might be good mulch around the fruit trees too which for now just have some shredded paper round their bases to keep them warm. OK some people say wood type waste might just carry disease but really I don't have much in the way of permanent planting and it's hard to see what harm it could do to what I do have. As far as I can see, the more organic material you can get on the garden, the better.
Question: does anyone know if I can grow Coriander in a pot? I put some seeds in, they are doing well. But maybe it gets quite big? I also put some in the garden, just to be on the safe side.
Happy Easter weekend everyone gardeners or chocoholics.
Labels: balcony, compost, coriander, flowers, mulch
Thursday, April 05, 2007
Just a bit of seedling maintenance to report on. Some of my tomatoes are now little plants! I am so thrilled with them! There are a dozen, Marmande type. There are 10 others though that are not doing so well, so I repotted them into some richer potting mix and peat (yes yes, naughty) to see if this does the trick. The first batch of lettuce are mostly ready to go into the ground, I will start hardening them off for a few days as the weather here is lovely for now, although a bit cool.
Planted:
some more lettuce, butterhead and curly endive
gherkins
capsicum (sweet peppers)
Could not resist the 0.29 cent seeds at LIDL, so I will have a go at seedlings instead of buying plants. But I think I will end up giving s0me baby plants away as I won't have room for 15 pepper or gherkin plants :-D
Speaking of which, does anyone know how many gherkins one plant gives? on average? Any experience growing those? I would like to make my own pickles...
Monday, April 02, 2007
Grrr there is going to be a bit of a rant here so be prepared. But first I will talk about what went on positively in the garden this weekend.
The peas I had transplanted died - obviously peas are not meant to be grown other than straight in the ground so I will know not to do that again. So I planted two new rows of peas and snowpeas and hopefully those will come up.
Also planted a row of spinach and a little bed of radishes, as the others didn't work either, must have been too cold. Some of the potatoes I had planted early in March were frost affected, so I cut the dead growth off some and just planted a few more potatoes in that patch.
I also worked on my potato barrel!!! I put some rocks in the bottom, then filled it about 1/5 with a mixture of topsoil and compost. Then I planted the spuds. As soon as I spot the leaves coming up, more compost will go on and so on and so on. This has intrigued my fellow gardeners, so I hope it works so as not to lose face!
Watered and turned my compost, I am surprised at how well it is coming along! A lot of the grass and vegetable matter has broken down. I will probably be able to use some of it soon.
The fruit bushes are doing well. The gooseberries have quite a few leaves and the raspberries are just starting their buds. Weather here is quite cool and humid, they don't seem to mind this too much. Some sun, but not very hot.
Sunday, I went down with the kids. We had two objectives, one was to plant the strawberries and the second was to plant their flower beds. I forked over the patch again (I had already buried a bit of kitchen waste there in the winter) and I added a bit more compost. We laid the black plastic then with Biggest one we planted, he did the holes and I put the plants in.
Then came time to do their flower beds. I had already dug over all this ground in the winter, so I hacked it up a bit with the hoe and added a bit of compost and peat (yes I know, bad, this is the bag I was given). Suddenly the fellow responsible for the allotments came strolling over. He says "I see you are having a lot of trouble with your garden". !!??? wtf? Of course I did not appreciate this AT ALL so immediately in defensive mode. "Well, what makes you say that?" He looks at the peas. Yes, well, he would have to look at the peas, wouldn't he? "They won't grow", he says, "you don't transplant peas". "Well, I have now learnt this, which is why I just planted some more". Then he looks at what I am doing and says "What are you planting here?". OK it is just a few flowers. "You haven't dug." he says. Well, I had dug as a matter of fact, but he goes and gets a fork and digs everything up again!! "That's how you do it" he says, "Now when you don't know how to do something don't be afraid to ask." I was f***Ing speechless, which is unusual for me. He then berates my neighbour "why didn't you help her dig?". The neighbour, quite rightly says "She didn't ask me to...and err, well, everyone has their own way of doing things, don't they?" As if I am going to ask the others to dig my garden!! So the old fart is saying "when you don't know ask, we are all here to help each other" which is fine, but why me? Because I am young, female and do the garden by myself. I was waiting for him to call me "girly".
I was furious. The lady that gardens next to me, who is very nice, came over and said, "would you like a hand with the digging?" But I explained that my philosophy was not like that, that I had taken on the garden, knowing I would be doing it myself and that I had to learn from my mistakes. I have had a garden before, I feel that I am not totally clueless, but it is slow going and I am trying to do it piece by piece. That doesn't mean that I can't make it happen!!!!
I admit though that when I looked around at the other gardens, with their neat rows of well kept cabbages, leeks, neat rows of well dug soil, I did feel a bit despondant. My lot is still half covered in carpet, a few straggly garlic and onion tops, the sticks that will be my fruit bushes and a bit of grass. But considering there was nothing there 3 months ago I feel like I am not doing so badly. I will just have to keep slogging away.
Labels: planting, potato, shit_happens, spring, strawberry
Subscribe to Posts [Atom]