Monday, November 30, 2009
Sloe gin
Oh I do believe that I forgot to say that in October I made some sloe gin. Now I have never tasted this before so it could be foul, but sounded like fun to make, so off I went on a bright Saturday morning, in late October, looking for sloes in the local park. Found quite a few.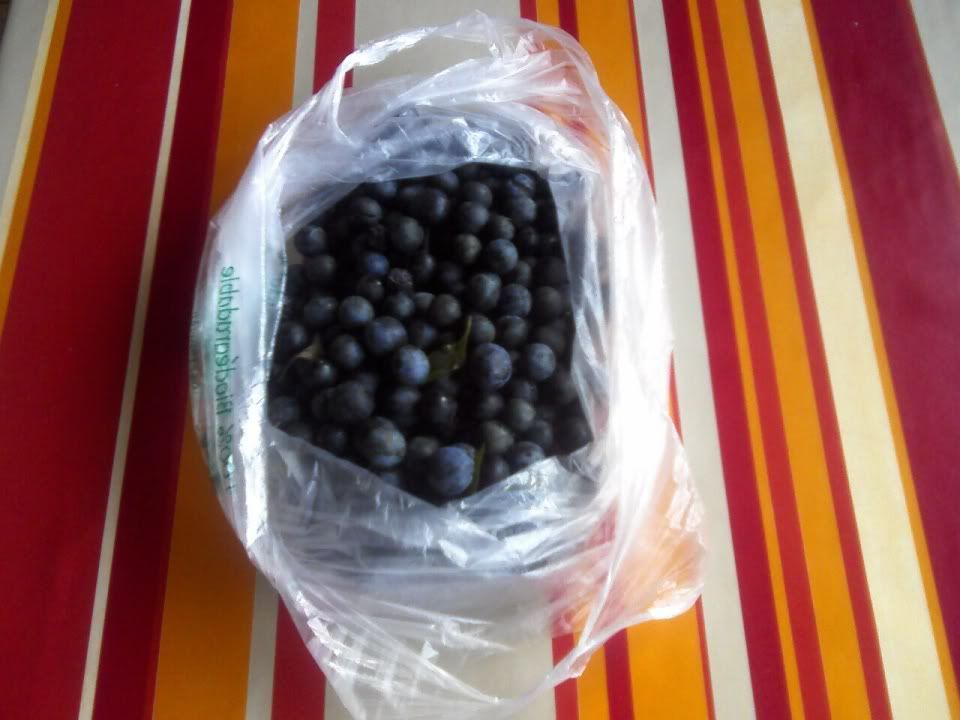 They are quite ripe but if you taste one raw, unbelievably sour. They smell quite nice, a bit like grapes. I pricked them with a pin, yes one by one but it's quick in fact.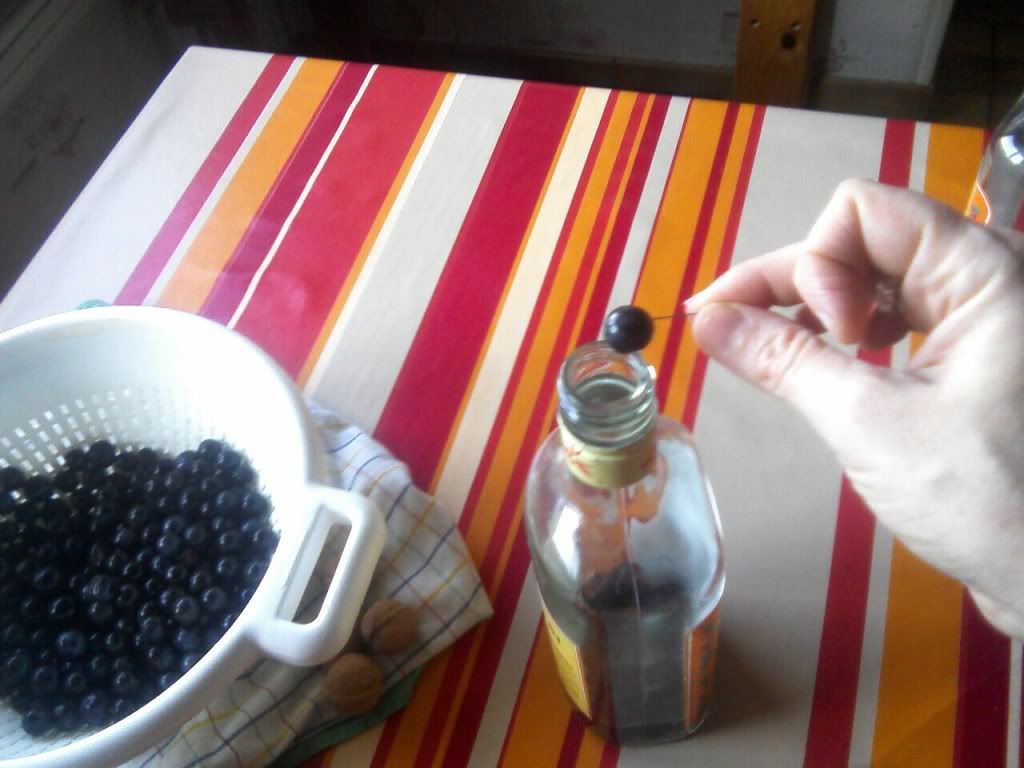 Then I half filled an empty gin bottle with them, a few tablespoons of sugar and a couple of walnuts for extra flavour (read that somewhere, see if it works).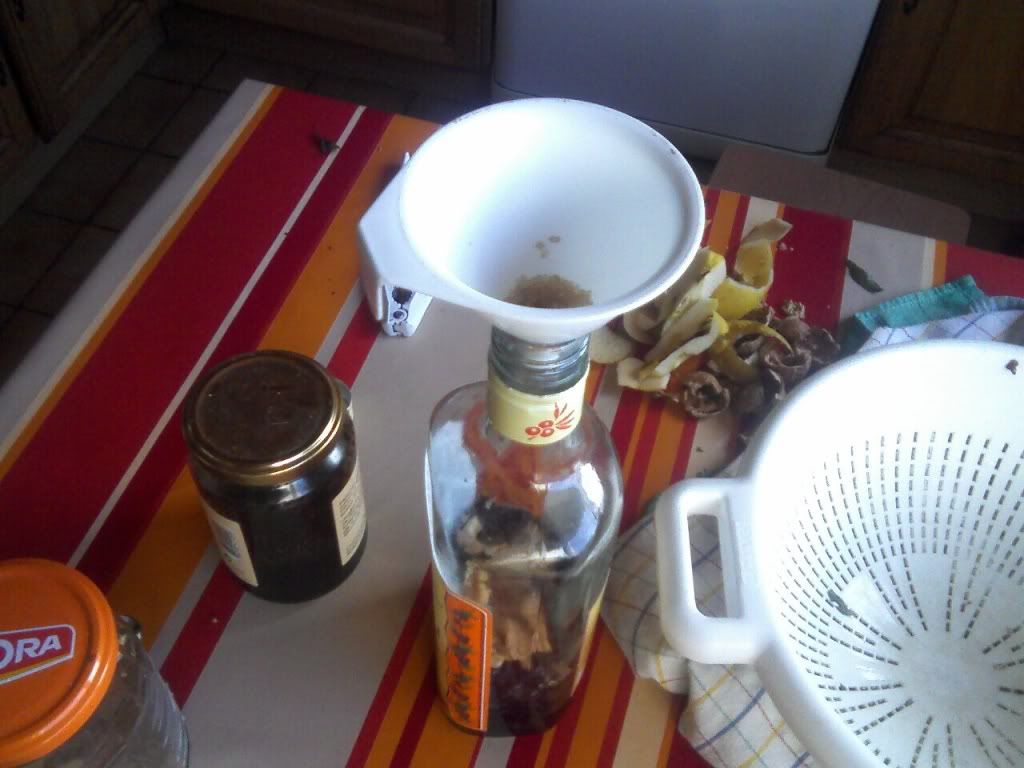 After that, the gin and give it a good shake. It has been in the cupboard for about 4 weeks now - should I taste it yet???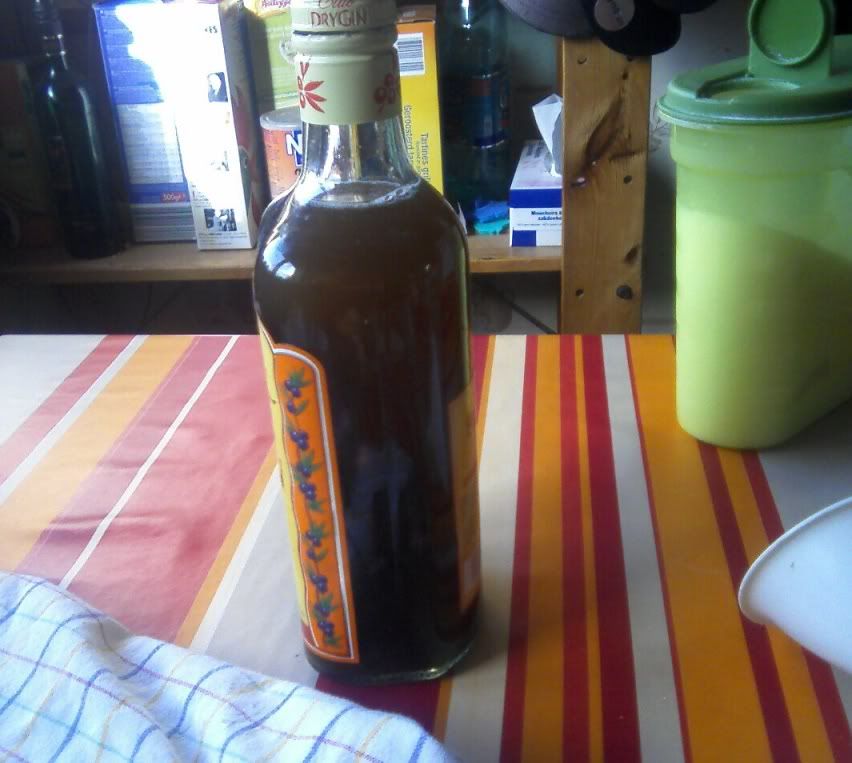 Shit
No no, I am not going to relate some disaster, I really mean "shit", as in cow shit. A really really big heap of it. Which is now sitting next to my plot.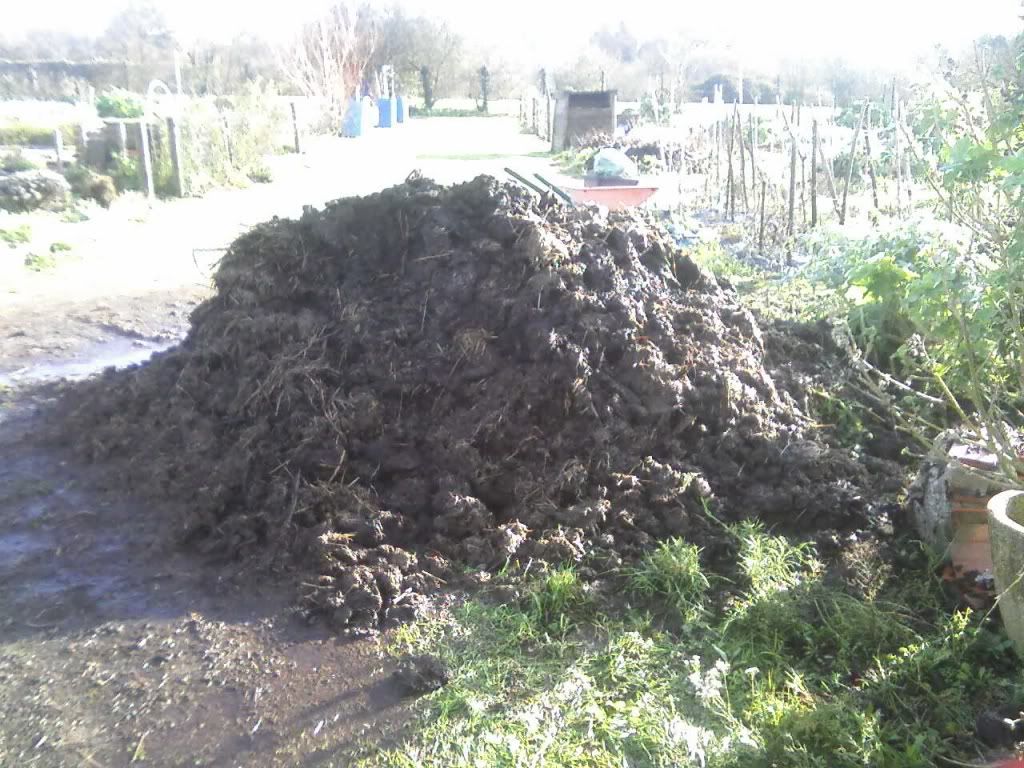 One of the girls on the lot got a farmer that wanted to sell some manure so she ordered some for 8 of us. Actually she didn't tell me first and I thought the price a bit steep, 15 euros for a cubic metre but as she had been kind enough to take the initiative, I said Yes. I had said I would come down and take it on Saturday but as it turned out Saturday was a complete deluge, it rained from morning to night so I wrote that off as a bad job. Sunday was fairly clear so down I went, only to find that the girls had indeed been down on Saturday in the pouring rain and had shovelled most of it onto the various plots. How kind they are.
So now I have two huge heaps of manure. (apologies for the crap, pardon the pun, photos, just the telephone camera).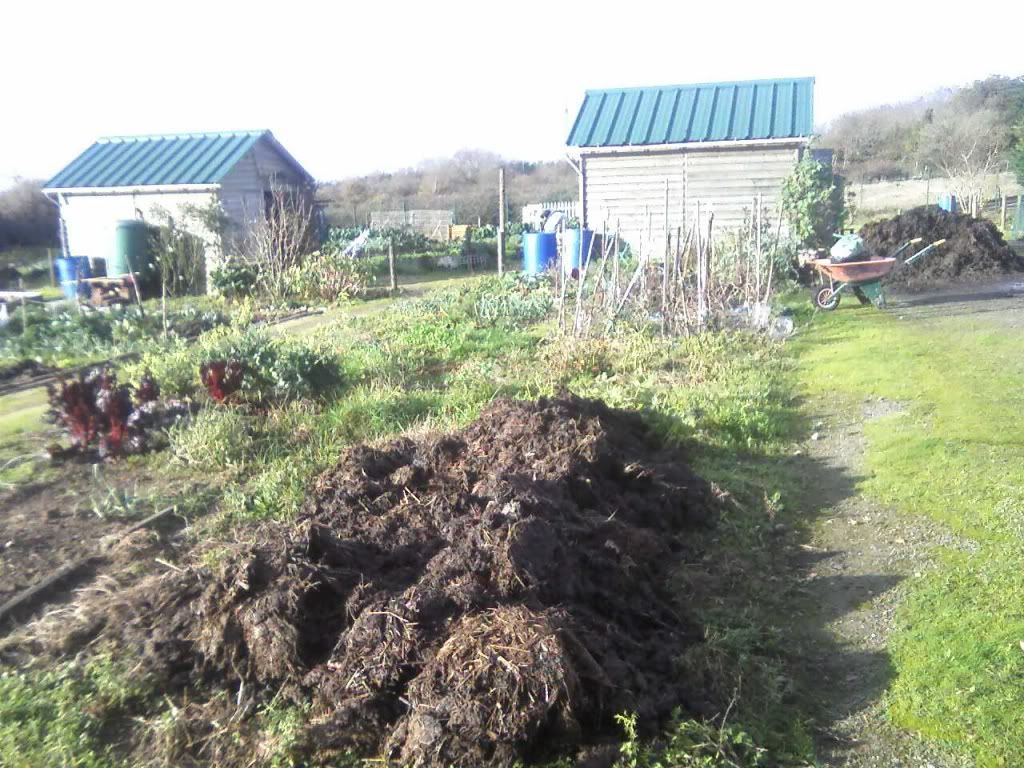 Not quite sure how to tackle it, really. I started spreading some of it, but there is an awful lot there. I think I will just try and spread it for now and hope that it gets incorporated when I dig things over in the spring.
I pulled out the dead summer plants, the courgettes, tomatoes, aubergines, peppers and it looked immediately 100% better. The old bean stalks etc are now covered with a tonne of crap so that takes care of them. Where I had pulled up the plants, everything was nice and dug over so I spread quite a lot of manure over that.
With all the rain we are getting, I hope it will integrate into the earth quite quickly.
So left to be done in December, keep tidying up here and there, plant the garlic (where the toms were so the earth there will be pretty rich, it was manured in the spring, hopefully that will mean a good garlic harvest), and keep shovelling shit! I am usually stirring shit, so this will be a new experience ;-)
Labels: autumn, digging, dying_off, manure
Friday, November 13, 2009
gosh how neglected this is getting
I could say the same for the veg garden! Well, that's a bit of a lie really, I did get down there last weekend and I chopped down all the raspberry canes, pulled up the pumpkin vines, tried to find the paths again (was mostly successful). I planted some daffodils for spring, I hope i remember where... It does need a big effort putting in, but I am hoping that I will manage it before spring. I must get some garlic and at least plant that as it really needs getting in quickly. Last year it was a good success so hopefully that will repeat itself.
I have hardly anything growing just now, except a few red cabbages, parsnips and some rainbow chard plus some leeks. The garden will get a good rest this winter.
What are the goals for the next season?
Well I was pleased with the allium and potato harvests so I will again go full throttle on those.
I have decided to build a seedling box so I can do my cabbage and salad seedlings straight in the garden which hopefully will produce better hardier baby plants.
I want another rhubarb plant and another artichoke. Don't know where they will go yet, I fear that the whole top part will be filled with perennials eventually. But that is good, less to maintain.
I want to succeed in growing carrots. the others do it, and so can I. I just have to persist.
No broad beans, more peas.
Sow beans successively. I CAN DO IT!
More pumpkins - note to self, build up a manure pile for that.
Start to replace some of the strawberry plants in spring. A good chance to tidy up that plot and get it richly fertilized. Note to self - ram something in the ground to stop the bloody raspberries.
Sigh... hopefully the goals will not stay as wishful thinking!
Subscribe to Posts [Atom]