Monday, June 30, 2008
Chocolate and courgette cake
3 barrowfuls
No, not of spuds or cabbages unfortunately, but of weeds. That was the result of a pretty intense weekend of gardening. I did take
some
pics but forgot the camera today, I will
re post
them tomorrow.
I started by clearing the patch where the broad beans had been. It's the scraggy looking bit where the bin bags are. Also in this patch are some lettuces, beetroots and some rhubarb chard. The next spot down is the onion patch but they are gradually being dug up...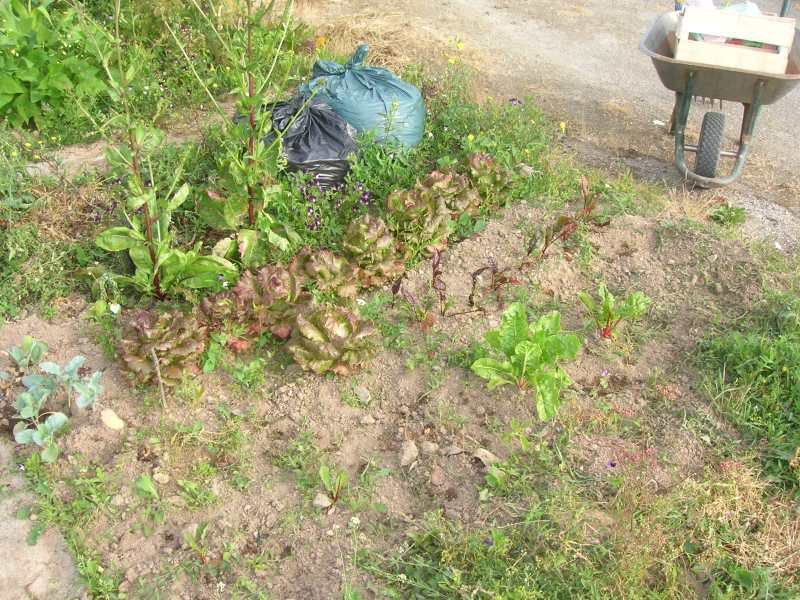 When
I started digging I realised it was full of self seeded pot marigolds. I felt sorry for them as always so found myself clearing the jungle that had sprouted next to
the
tomato bed and popping them in there, along with my Sweet William seedlings. I admit that I have little hope for either of them but they might take. I managed to finish clearing
the
broad bean patch, and raked it over and sowed
the
last hope carrots. A mixture of
Colmar
and
Nantaise
2, mixed with radish seeds ( a tip I heard to let you see where your carrot seeds were sown) and sand. Hopefully they will come up, I have kept watering them and the weather is terrific and warm.
I cleared quite a bit of the same block, where the garlic had been, leaving a coriander plant that sprouted up by itself and two
scarole
lettuces that are seeding (I will collect those). In its place I sowed -
A patch of rocket,
A row of

parsnips

(in

the

end I just couldn't resist),
A new patch of peas,

Kelvedon

Wonder.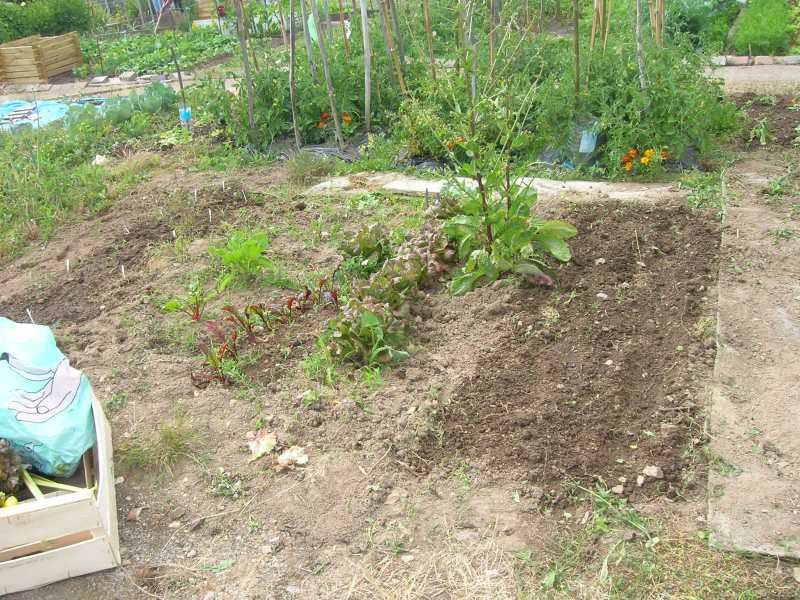 So now it looks like this, with carrots on far right, some lettuce, beet, chard then the peas then the parsnips. After that the onions start but they will soon be gone.
I picked:
4 lovely big sticks of rhubarb that

immediately

went into an apple an rhubarb pie,
about a pound of strawberries, really big ones too,
some raspberries,
2 yellow courgettes,
a lettuce (red

batavia

, delicious, you can see them in the piccie above)
about a kilo of peas,
and about a kilo of early spuds.
I observed:
the

echalotes

seem to be developing very well, they still have a bit of green so I will let them keep maturing for now,
the brown onions also seem to have healthy looking bulbs this year, quite happy about that,
the first green beans sowed by the kids have developed very well and are in flower. So beans quite soon.
the gooseberries are looking terrific. Next weekend I want to pick some and make a pie for my English friend (if it's good I will post

the

recipe).
the tomatoes are full of luxuriant foliage and multitudes of flowers. There are already baby tomatoes ripening on them. I pruned them a little but I realise that they have grown a bit out of hand.
On Sunday I dug part of the covered patch, it is so easy when it has been covered. There was bindweed but nowt else. And
the
soil was dark, damp and crumbly. I then sowed a thick patch of green beans. There is still double the space again but I will do that in the next couple of weeks and sow more French beans (the last one) and more
shelly
beans (Coco
de
Paimpol
).
The weeds are
phenomenal
, I dug out yards of bindweed, thistles (mostly now embedded in my hands), a little chickweed, dandelion,
redshank
which is actually a right little bastard, and grass. Worst of all the bindweed
seems
to have flowered this year, last year it didn't so I am frantic to pull out all
the
flowering sections in case they seed.
I felt a nice warm sense of achievement when I left it on Sunday or maybe it was just sunburn and extreme muscle fatigue.
Still, getting it nicely set up for winter. Next tasks:
get
the
leeks in, get
the
sprouts in their final positions, get some purple sprouting broccoli from my friend (
yay
!) and plant that, get in some winter cabbage and celery, if I want to be self sufficient this winter. Thin the beetroot and fennel.
Do
a big tidy of
the
fruit area which is getting a bit too grassy and fertilise the strawberries. Start a winter salad bed for scarole, and lamb's lettuce.
As said my wise allotment neighbour this weekend "When you work with nature, the job's never finished."
Labels: beans, carrots, harvest, parsnip, peas, potato, rhubarb, roquette, summer
Wednesday, June 25, 2008
Clafoutis aux cerises
A courgette a day
Monday, June 23, 2008
What can you do in 85 minutes on an allotment?
Monday, June 16, 2008
Peas in a pod
Friday, June 13, 2008
Saving seed
Thursday, June 12, 2008
Vegetable sculpture
Wednesday, June 11, 2008
half an hour allotment
Tuesday, June 10, 2008
Monday, June 09, 2008
Subscribe to Posts [Atom]