Thursday, July 23, 2009
Summer 09 more pics
Just a quick pictorial update on the allotment.
Unfortunately these pics were takien before my work session, in which I got down and ripped out large quantities of this bloody grass that is growing everywhere. I will have to take some "After" pics to show that I did do some weeding!
The 3 sisters lot is working strangely this year. Not all the sweetcorn grew properly and the pumpkin is slow, despite the patch being well manured. But the beans are quite something! They are "Coco de Paimpol" shelly beans. This year they have grown terrifically well and I hope to be able to pick them at the half-dry stage, last year I was too late and they dried on the plants.
In this pic you can see the rampant raspberries in the background. And my neighbour's lovely dahlias!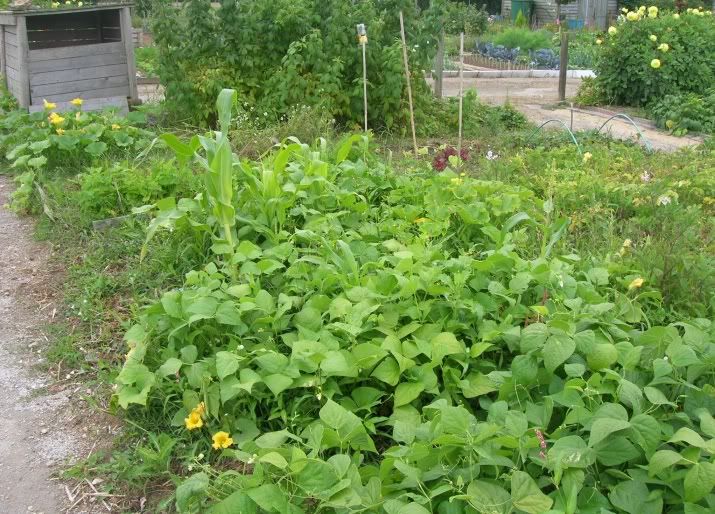 There is also something very satisfying about growing pumpkins, it must be the lushness of the plant. Mine are growing all round the compost bin, it's obviously feeding them through the ground. I am not sure of the variety as I sowed several sorts, they are either butternuts, or Queensland Blues, although my friend gave me a Uchiki
Kuri Hokkaido squash but I don't know yet if it has worked. I will have to wait for the fruit to be identifiable!!
Lots of people claim to have trouble with parsnips but mine always work very well, touch wood. These are White Gem variety, from the UK.
Here you can see them, side by side with some beetroot, and a few carrots, this year's big failure.
I have since attacked the grass there and it is looking much tidier. Behind there you can see a few young lettuces and the potato patch which I basically leave to its own devices once the foliage has grown. It is now starting to die back.
Monday, July 20, 2009
Beans again!
Friday, July 10, 2009
beans beans are good for your heart...
Monday, July 06, 2009
Got my key again
Subscribe to Posts [Atom]