Thursday, April 28, 2011
Photos April 2011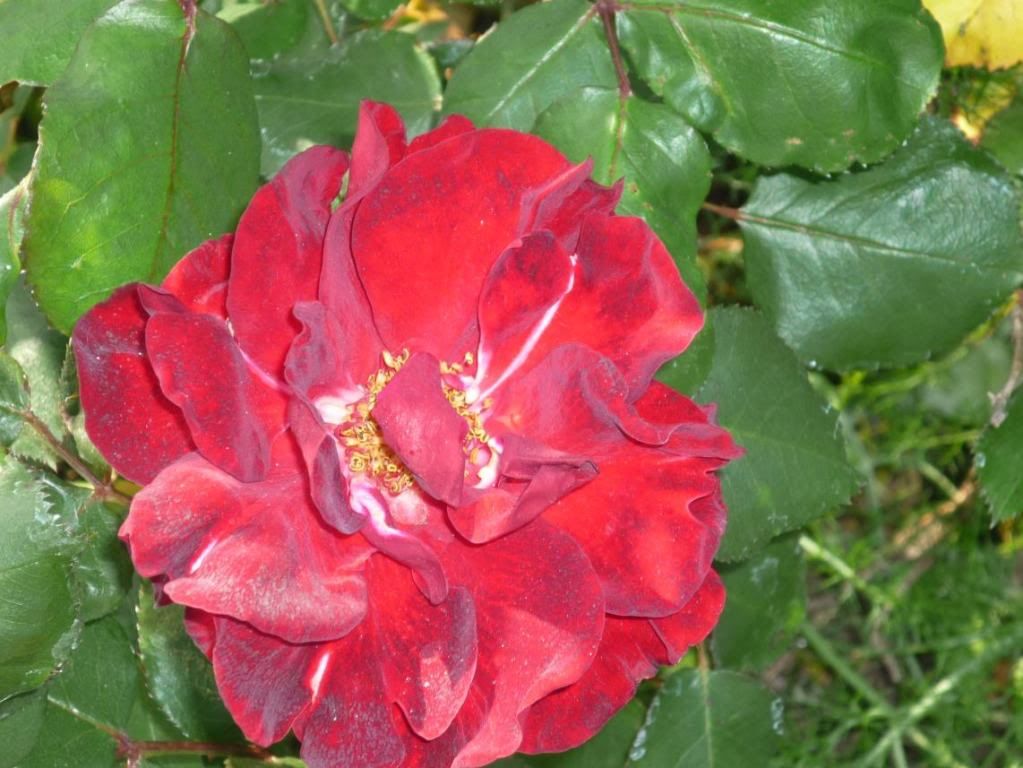 Finally got the photos loaded!
First an overview of the garden as it stands:
You can see on the left the spud patch and on the right the peas and broad beans. The plastic bottles are cloches for squash. A Turk's Turban, a summer pattypan and an Atlantic Giant that can run down the edge of the plot (that was a freebie!).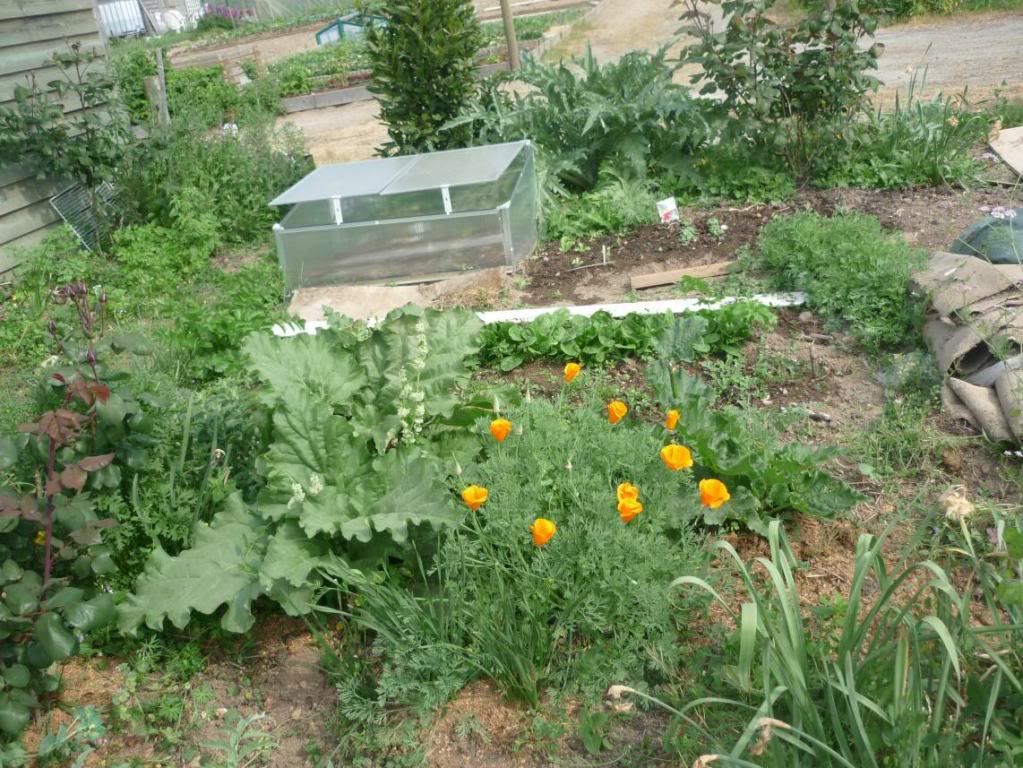 In this view you can see the herb bed next to the shed, the seedbox and the small patches I havenext to it with lettuce, radish and beetroot seedlings. Behind those is the "mother" artichoke, she is now 4 years old and gives excellent fruit. The rhubarb also appears in the foreground.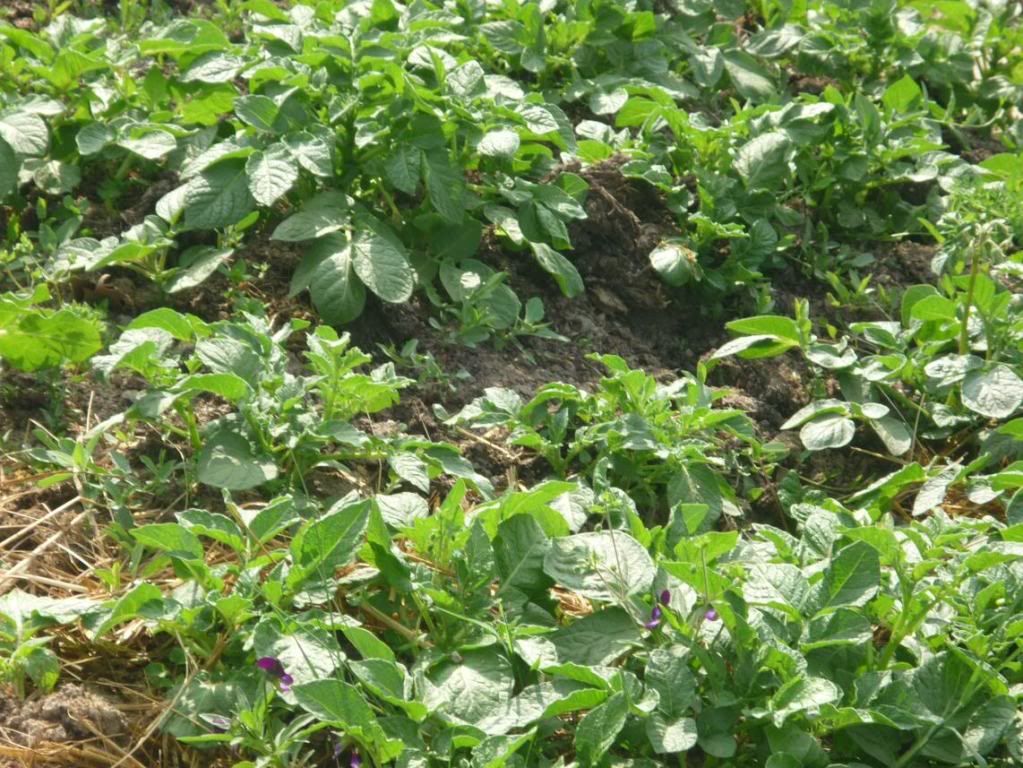 The spuds are going great guns despite the dry weather, it was a good idea to heavily manure that patch! they are partially mulched but I have run out of straw for now.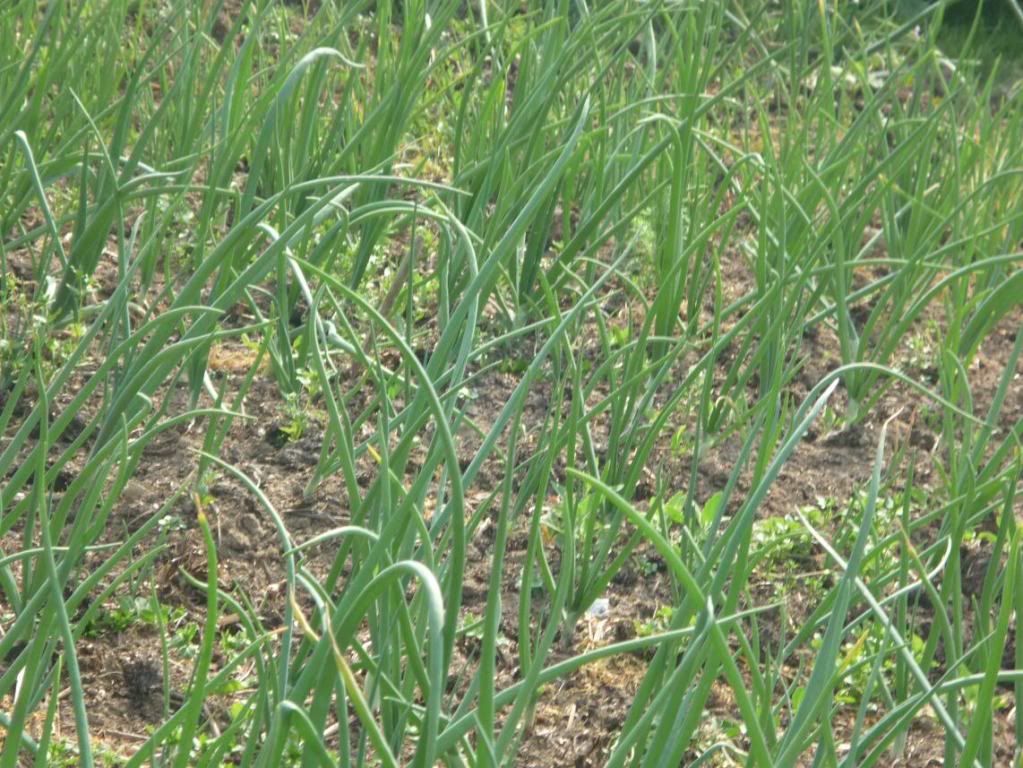 I am a bit worried about the onions but watering them by hand just seems futile. Still, they have come up very well. A good downpour would do them good.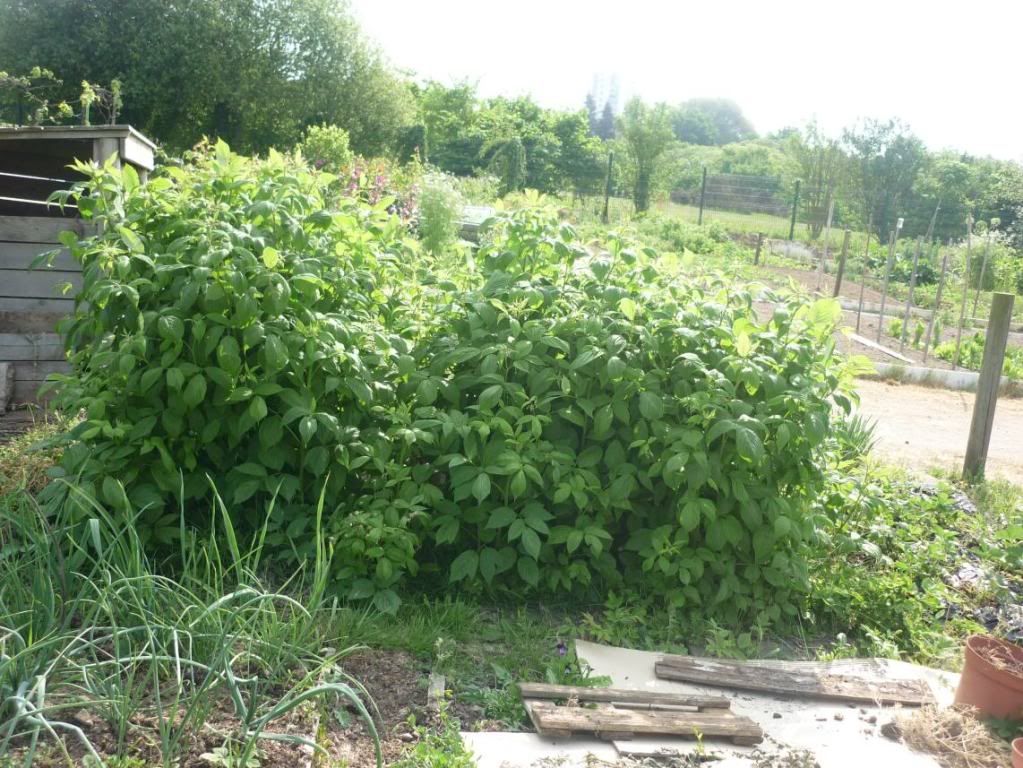 The raspberries are totally feral this year, I fear I may have to cut back some of the foliage as I can hardly get past them! They are much leafier than last year!
I will post some other photos once they are ready.
Just a drop
Finally got a small shower of rain last night, I don't know if it will make a great difference but at least the very young crops might have been freshened up a little.
But we really need a good downpour, it has been a few weeks since we had good solid rain. I do feel weird saying this though as I am on holidays next week. maybe just a day or two?? :-)

Tuesday, April 26, 2011
Easter work
Did just a few bits and bobs this weekend, even though it was a public holiday!
Took some pics but they are still in the camera! bugger!
Sowed: cucumber, beetroot (Monoruba), and some wildflowers to fill that annoying gap between the strawberries and the path!
Weeded; the strawberries, the peas, the carrots.
Planted: 2 aubergine (Halflange Violette) and the first Gardener's Delight tomato.
Watered a lot - still no rain!
Progress: Fertilised the strawberries which have lots of green fruit and flowers, must keep watering so the fruit forms properly. The peas continue to grow, as do the broadbeans. The new broccoli have taken well despite the drought and have put out new leaves. The lettuce and beets transplanted last week have also taken well and the radishes have germinated very well. The raspberries are totally feral and I may have to cut them back as I can almost not get past them already!!
Potatoes certainly like manure!I dug up a volunteer that had been growing up through the manure that was spread in winter - and already there were 3 big spuds on it! So we will eat those, yum yum. I think they were Charlottes growing there.
Thanks to my big son who has put his new muscles to good use Monday, helping me to dig.
Labels: aubergine, cucumber, drought, spring, strawberry, tomatoes
Thursday, April 21, 2011
Weeds - getting better
I am gradually starting to become a weed expert! It has taken me years but I am slowly but surely naming (and getting rid of) the weeds in my garden! I don't really count the field bindweed anymore as it is just now a neverending source of misery and lamentation, rather than a simple weed.
However I can also boast these annoying little buggers:
-
Dandelion
-
Sow Thistle
(really hurty if you pick it up accidentally)
-
Scarlet Pimpernel
(Pretty! but invasive)
-
Groundsel
-
Narrow leaf Plantain
(mostly around the edge for some reason)
-
Chickweed
-
Red Clover
-
Creeping Buttercup
-
Lamb's Quarters
Among others!
Wednesday, April 20, 2011
dry dry dry
Still no rain, but lovely April weather, so it doesn't do to complain. I am pleased because the indoor seedlings are doing well (except the courgettes that don't seem to want to sprout) including the ones that I just pricked out over the weekend, and I had to go down the lottie to water and saw that the new seedlings are coming on wonderfully - the pricked out lettuce and beets seem to have taken, as have the broccoli, and the peas are thriving. I will have to go down and water again though, probably tomorrow morning. The new season's crops have come up so well, I don't want to comprimse them via lack of water.
I gave the strawberries a good soak yesterday , as they are under black plastic they should be ok - they have lots of flowers, which means lots of fruit! Yum, can't wait, I only ever eat my own now, more or less. Others are just awful in comparison!
Labels: drought, peas, seedlings, spring, strawberry
Monday, April 18, 2011
Make hay while the sun shines
OK maybe not hay, but a good bit of sowing and weeding does wonders! I did get a wee bit carried away but the weather was so perfect, sunny but cool, not a cloud in the sky.
I staked the peas that are now about 20cm high and coming on well. I earthed up the early potatoes, which have excellent growth on them.
Then for sowing, I put in some beetroot, lettuce and broccoli seedlings that had been sown a few weeks ago, sowed some radish, beetroot and lettuce, in nice neat squares.
I then attacked the bed where the peas are, because it was seriously overgrown down one end, and after digging it all over, I sowed 2 rows of French beans (Fin de bagnols and Kingswax yellow beans) and finally, under cloches, an Atlantic Giant pumpkin, a Turks Turban pumpkin and a yellow pattypan squash, Sunbeam. I will try and successively sow the beans this year, they always come too many together! So a small patch each fortnight!
It looks much better, there is only one quarter left to be cultivated, and the edges tidied a bit.
I headed off to the pony club in the afternoon, where I filled 3 bin bags full of stable waste (in which there was rather a lot of very smelly poo!!!!) and carted them off, 2 were used to mulch the first half of the potato bed (the others haven't come up yet so I need to wait a week or so!), the peas, and broad beans. I think I need about another 4 or 5 bags, because I would like to mulch everything this year, even the onions. That makes less work watering.
I have a week's holiday beginning of May so I will be able to do then the hard graft of digging over the tomato patch, planting and staking all the tomatoes, aubergines, peppers, courgettes. I spent some time too on Sunday pricking out the last of the tomato seedlings, I now have about 15 plants, which is great, just the right number, even though they are fairly banal varieties: Gardener's delight, Moneymaker, Tigerella and Marmande for the most part, although 3 of the Evergreen green and one of the yellow Beefsteak tomatoes did come up - that will be a fun novelty! I also have 6 aubergine plants in good health and about 6 or 7 peppers, which I guess will be enough.
Labels: beans, beetroot, broccoli, mulch, peas, sow, spring
Thursday, April 14, 2011
Coming along nicely
I was definitely daft this morning as I went down for a quick water (that sounds a bit like I am having a pee on the veg, doesn't it??) and I had a camera on me! And I forgot to use it to take some pics! But I know they are badly overdue. I would like to get a chance to weed a bit first though...
So pleased - for the first time I have excellent carrot and spinach germination. I have learnt how valuable fleece is for those baby plants, it will definitely be a habit for me from now on. SO this year maybe there will be carrots for the first time.
The spuds are coming on in leaps and bounds - they need earthing up and mulching. The onions are all up now and they look so sweet with their green tops waving in the breeze. Everything has taken, the early and late garlic and the shallots. Now just have to hope that the warm weather doesn't make them all bolt.
I left a lot of rocket on the plot, to self seed but I might have gotten a bit carried away I think. There are huge clumps of it, and they are all in flower and over a metre high! But they are attracting insects so that can't be all bad. I guess I will chop most of them down when planting the summer stuff and just leave a little to make new leaves for salads.
There are loads of volunteer spuds coming up in the bean and squash bed. I am loathe to do it as I don't think there will be many potatoes to speak of but they will have to come out. It's just a matter of time. Beans will start going in under fleece this weekend and the squash are only 2 weeks away from sowing... Shows that I should dig a bit more zealously when I harvest spuds!!!
Labels: potato, roquette, spring, watering
Monday, April 11, 2011
Mind the gap
In the rows of peas! Last year there was a successful manoeuvre on my part to fill in the gaps in the rows of peas once I noticed them. I found that this lead to a better harvest, as the older plants tend to protect the new ones, and it leads to a better usage of space. Sowed more Kelvedon and Alderman in this way.
Gorgeous sunny weekend, almost like summer. I finished planting the maincrop potatoes (Desirée), so that's done now. I howed the onions and shallots and the early spuds are well through so I started to earththem up a little and have made note to self to get in some stable waste to mulch with.
For the first time my carrots have germinated really well under fleece. But it is getting really warm so I lifted that on Saturday, and I think that I might actually grow some carrots this year!! The spinach too is coming on well.
I sowed some things in my seedling shelter - many flowers for transplanting (zinnea, marigolds, carnations), some basil (rather pessimistically but you never know), broccoli, brussel sprouts, kale and more beetroot. I ran out of time but I really wanted to sow some more beetroot straight in rows, and also more spinach and parsnips. I must try to do that this week.
The fruit bed is still a bit of a dog's dinner. there is bindweed coming up in the strawberries, it seems to love covered areas, the bastard! That needs removing, and I should get some fertiliser on the plants, which have a lot of flowers! A great fruit harvest is looking likely, as the raspebrries are covered in growth and the gooseberries are in flower.
Inside, I pricked out more tomatoes, the peppers and aubergines are small but still growing, they have another 3 weeks to get a move on! I sowed a pot of basil too, since it seems to grow crappily outside. And even though I said I wouldn't, I gave in and sowed 2 cucumbers (Burpless Tasty) and 2 courgettes (Diamond, ordinary green), to get a head start. Hopefully they will be able to go out in the next two weeks if they sprout quickly.
had a bit of a seed tidy up, threw out some old stuff, and I realised that I have squash seeds in abundance! Some free Atlantic Giant (that I don't especially want! But I might grow one for fun, maybe I can get permission to put one in the borders of the carpark??) , Qld Blue, Butternuts, Turks Turban, was meant to have some Uchuku Kuri but I can't find the packet, Pink Banana from a swap. Dunno where I will put them all! because there are also 5 varieties of courgettes! Oh well, one of each??? :-)
Labels: aubergine, broccoli, carrots, peas, peppers, potato, spring, sprouts, squash, tomatoes
Subscribe to Posts [Atom]