Monday, July 28, 2008
Hard yakka
Tomato fever
Friday, July 25, 2008
First tomatoes!
Monday, July 21, 2008
Reaping and sowing
Phew, Saturday was quite warm and my kids were off to stay with their grandparents so while hubby was off doing that I was down on the allotment for a few exhausting hours. I admit that I did overdo it slightly, I was knackered when I got back (and curiously sunburned - the back of my calves but it stops where my wellies were...).
First thing was to pull the nets back off the strawberry patch. There were 2 more dead birds in it so I though that enough was enough. Next year I will try and set up something more elaborate so the netting is completely sealed to the ground, but for now I have had enough of decimating the local blackbird population. Yes they seem to always be the same bird, little female European Blackbirds. Well, now they are fertilising the new rows of green beans, just goes to show that crime doesn't pay.
Anyway gave me the opportunity to weed out the strawberry beds at least. and pick about 700g of berries, avoiding the ones near where the dead bodies were, yuck. It was so charming especially as I picked one up (with gloves on of course) and a whole lot of yummy maggots slid out - the bird had been literally emptied from the inside out, in just a couple of days.
In less gory events, I dug over the last patch of empty ground, put away the tarpaulin for a while and sowed the last dwarf beans.
Then I transplanted a few beetroot seedlings that were not thriving where they were, thinning them out. That method seems to have worked well for the other ones so I did it again with the later sown beets too.
Things are really romping home, I gave the tomatoes a bit of TLC, tying up some wayward ones, pulling off a fair few stems that were inappropriately placed. And a good watering too.
Two barrowfuls of weeds got pulled out, tidying up all the edges and the flower beds.
There are now several pumpkins forming and ears are growing on the sweetcorn!! So it really is an early variety!
The red cabbage, sprouts and broccoli are doing marvellously well too, my home sowings! So proud!
And I did quite a bit of picking:
700g of strawberries
a lovely pointy cabbage
well over a kilo of yellow French beans
5 courgettes
radishes (yes the ones I sowed as indicators for the carrot seedlings are actually ready to eat!First time I have had some decent radishes, I pulled a big bunch and we ate the lot that same night)
2 small fennel bulbs (they are bolting so I might as well eat them)
well over a kilo of second early spuds. I am quite pleased with that variety, "Bernadette", the spuds are quite healthy, a good size and there were about 4 spuds per plant. I admit I was expecting more but on the whole I am just happy that they are healthy.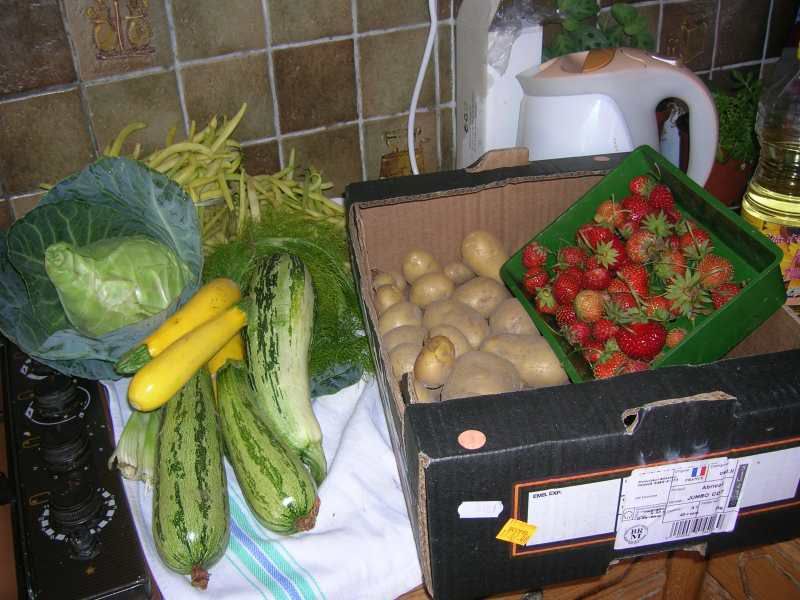 So what now? Well the week is supposed to be hot and dry so a bit of watering will be going on methinks, I also need to tackle the herb bed that has bramble growing once again, cut down some of the flowering parsley, maybe mulch the thing with some grass clippings to keep it moist. Also need to take the net off the goosberries (why did the birds not go for them I wonder?), go and get some horse manure, do some hoeing and general weeding, tidy the place up well before my holidays.
And try and take some more pictures of the garden in full swing!!
The current state of play: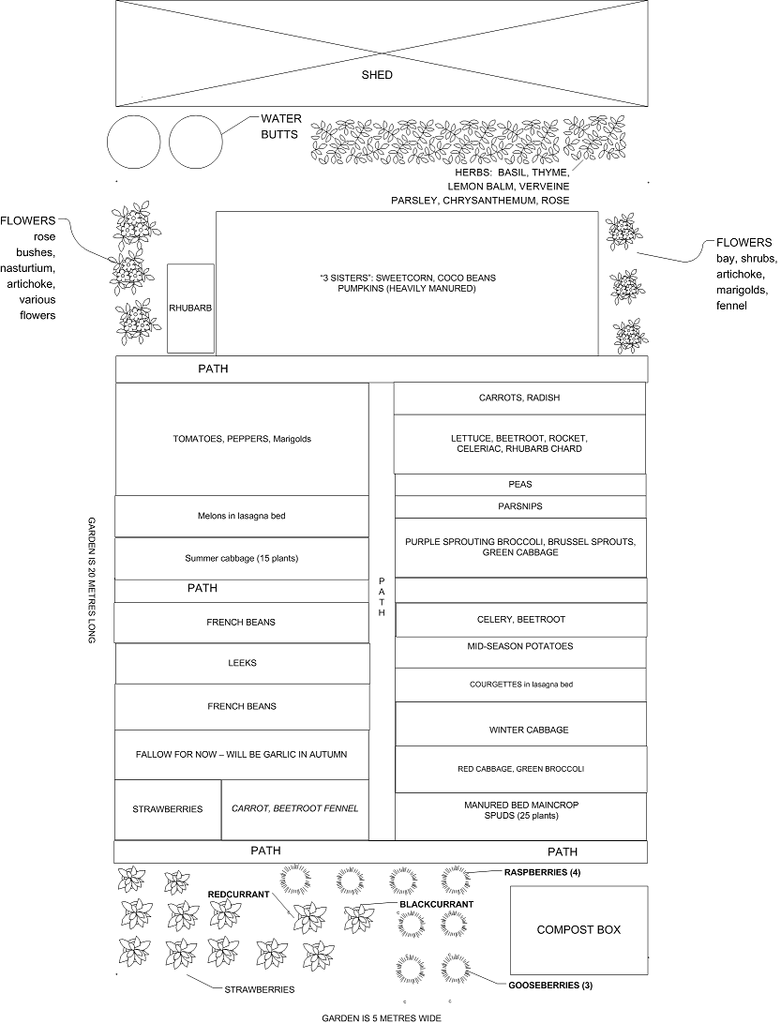 Labels: birds, cabbage, harvest, potato, strawberry, summer, tomatoes
Thursday, July 17, 2008
Onions, garlic, shallots
Tuesday, July 15, 2008
Before and after
Our 150th message!
Wednesday, July 09, 2008
Brassicas
Monday, July 07, 2008
Gooseberry meringue pie
Get it out, put it back in
Wednesday, July 02, 2008
Rain at last
Tuesday, July 01, 2008
Visual update June 08
Subscribe to Posts [Atom]