Thursday, August 30, 2007
Yesterday another express maintenance visit! We decided to tackle the herb bed. Actually it's not really one, it's the patch next to the shed where most people grow a few flowers or herbs or fruit. I had foolishly left a bramble there, thinking it might give fruit. Ah how we live and learn!! All it did was grow to gigantic proportions and rip us all to shreds everytime we went down the path. So yesterday, we got a wheelbarrow and a pair of secateurs and set to work. We pulled out loads of bindweed and dock and chopped the bramble up into manageable lengths. I also took the opportunity to cut back the lemon balm which is enormous. Eventually the bramble was cut back to a stump that I dug out (but i bet I see it reappear in spring! Next time I will rip it straight out!
Anyway we uncovered some mint, parsley and my lemon verveine has lots more space :-D Next spring I want to plant that area properly, putting some good soil in and planting more herbs like tarragon.
That didn't really take so long, so we then got back to work on the fruit bed. I pulled off the netting from the longest row, which was stuck down with bindweed and we weeded all those strawberry plants. Then I set up a stick with a plastic cup over the top to hold the netting in place in a more logical way. Next year I will build a frame I think. Of course still have to do the other three small beds, but it's a start. Next job will be putting down some more black plastic and establishing the runners in the ground. Might be tricky as my beds are not straight ha ha so I don't know how the extra ones are going to fit in. There are loads of runners, some of them even have their own fruit!!!
Looking tidier already, I then cut back lots of the grass that seemed to have popped up all over the place between the raspberries and goosegogs, leaving it all on the ground as mulch. Actually I think that this groundcover was not too bad as underneath the soil is cool and crumbly.
The physalis has grown to massive proportions!! Next year I get it will be bigger so I might have to cordon it off. It seems to repel weeds! I wonder what its secret is??
The lettuce I sowed from seed is doing OK: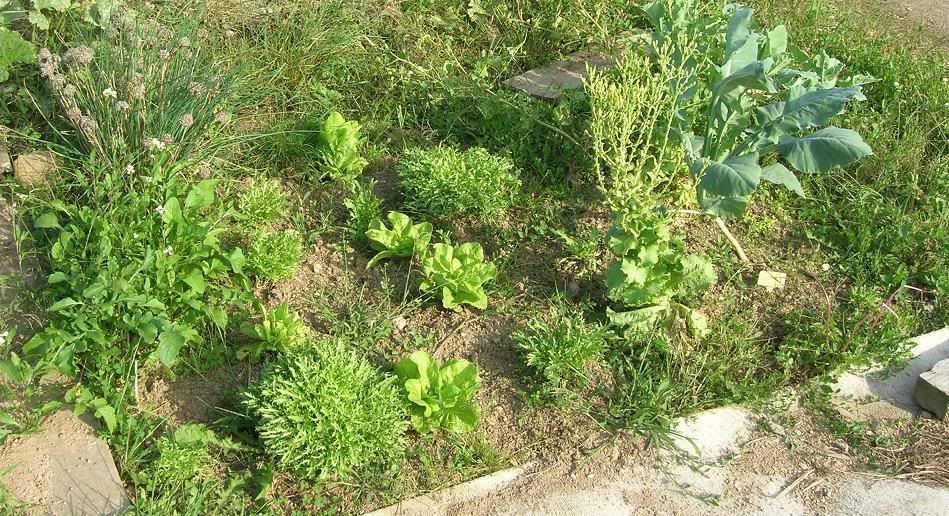 Here you can see (clockwise from top left) Chives, some butterhead lettuce, a frisee, some radish going to seed, broccoli (a castaway) and more frisees and butterhs, then back next to teh chives is a little patch of rocket.
Last night I came back home with a bunch of chives (got them out from under all the grass!!), a huge bunch of rocket, a frisee lettuce, a handful of beans and two tiny broccoli heads. SO last night we ate a frisee salad with the 3 tiny toms from Tuesday, rocket and some chicken ham, then I made pasta with a sauce of turkey breast, broccoli, beans, and chives in a cream sauce. Smallest one picked out every single chive. There is just no pleasing some folk...
Labels: fruit, herbs, physalis, strawberry, strawberry runners, summer, weeds
Wednesday, August 29, 2007
Tuesday, August 28, 2007
Monday, August 27, 2007
Thursday, August 23, 2007
Subscribe to Posts [Atom]