Tuesday, May 13, 2008
BIG Gardening weekend! it was a 5 day weekend for me so I broke my back in the garden as usual. But I feel quite vinidcated in all the work I got done. let's make a list:
Planted:
about 35-40 tomatoes,
4 sweet peppers,

15 sweetcorn,
one more courgette that was looking lonely at home,

6 chards,

French marigolds all over the shop
The tomatoes being planted: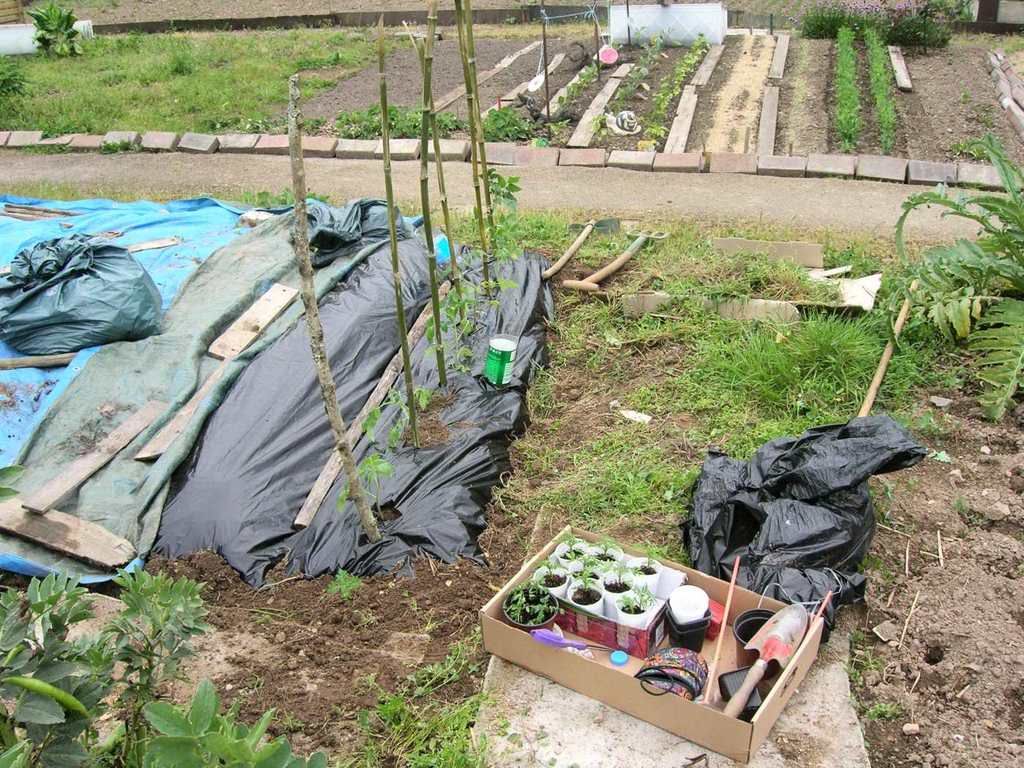 Sowed:
2 rows of yellow wax beans (the kids did those), Coco de Paimpol beans around the sweetcorn.
Weeded:
lots of onions, garlic, broad beans, fruit bed
Harvested!!:
our first artichokes, 2 big ones. The most delicious ever eaten...
about a kilo of broad beans, the first I have ever eaten! hubby and I liked them, the kids went yuuukkk. Still I like them as plants so I will do them again next year. They were overwintered Aquadulce.
2 strawberries, the first of the year. and the kids ate the lot. still there are lots more on the way ;-)
Admired lovingly:
the potatoes which have been earthed up and look fab. just a few more weeks....
the rasperries and gooseberries - the goosegogs have their first fruit ripening
the peas, ok a very small patch but they look strong and healthy (note to self - do them in the polytunnel again next year...)
the various flowers etc that are springing up, including on the thyme, pretty pale lilac flowers
This is what the lottie looked like this week: except that now the tarp has been moved to the "WIll be beans area" and thetomatoes have been planted.
At home, I sowed some more basil (I just can't succeed with that) and Sweet William (I killed the first lot), transplanted some skinny leeks into richer pots, transplanted the broccoli into bigger pots. SO all is looking set up now for the season.
I would like to sow some more carrots and beets but I will probably get around to that next weekend, it won't take long.
happy happy happy gardener (with very sore muscles...)
Labels: artichoke, broad beans, broccoli, corn, courgette, harvest, peppers, spring, strawberry, tomatoes
Comments:
Everything is ready a bit sooner for you than it is for us here. Our strawberries won't be ready for a few more weeks, for example. I'm jealous :-(
I have realized too that the concept of overwintering is unknown here! I already have broad beans, and my workmates are all saying "how did you manage that?" and when I tell them the broadbeans were in all winter, they are amazed.I am the only one on my site with overwintering garlic too. Yes I can see that I am a bit ahead in a few things, my courgettes are in and flourishing but I see UK sites which are still saying "wait for it, wait for it.." still it might all be over for me before you fellows too! Each at his/her own pace!
Post a Comment
Subscribe to Post Comments [Atom]
<< Home
Subscribe to Posts [Atom]