Sunday, June 29, 2014
Rain at last
This weekend finally saw some decent rainfall (why always on the weekend?). I went down on Saturday, under a little light drizzle, and managed to pull up a few potatoes, pick peas and courgettes and trim and tie in the tomatoes that are already getting unwieldy. Some of them have small fruit on them! Cool!!!

25 June
We are in the middle of a very puzzling dry spell. Of course that is good news for humans that want to sit outside drinking mojitos and getting tanned but bad news for a veg garden. So it's been water + mulch for the last fortnight. Some things hate it - the lettuce have gone AWOL. But surprisingly the garden is still thriving. Picking our first courgettes - they are very early this year. The spuds have been wonderful. i pulled up the first rows of belle de Fontenay and they have been replaced with two butternut plants and a row of some unidentified brassica which may be broccoli or caulis. The achocha is finally liking its sunny spot and has started to climb its stakes. I like its pretty light green colour and fine tendrils. The beans are doing well. The runners are about 20cm high and starting to twine around their supports and the French beans will be flowering soon, good, beans before our holidays. More carrots, turnips, beets, lettuce have been sown, tricky in this hot weather. The tomatoes are getting very big and I have the first baby fruit (again very early) and plenty of flowers. The peppers next to them also are doing well and are close to flowering. Afraid that the broad beans were heavily affected by rust and aphids so I ripped them out, added fresh compost and sowed some beans and peas in their place. Now I need to get cracking on some swiss chard plants and buy in leeks and brussel sprouts which failed from seed for me, as usual. The grapevine also needs tying in.

Monday, June 09, 2014
New potatoes
I am not sure there is any crop as magical as potatoes. You put a potato in the ground and three months later - it has turned itself into 7 or 8 potatoes! There is also the fun of digging round to see where the spuds have actually grown. The Belle de Fontenay planted between the last week of February and the first ten days of March are ready. The crop is even better than last year perhaps because we had a lot of rain but some bright patches too. They are sweet and delicious. I even had again some purple Vitelottes come up. I sowed those once two seasons ago and yet they still seem to keep growing!I tidied up the ones still growing, taking off old leaves, weeding and spraying wit Bordeaux mixture. I realised why I was not getting more artichokes. The plant has been infested with aphids! Grrr how annoying. I have tried washing them off with a spray of water, see how that goes. The broad beans too have been particularly affected and I took out 3 plants which were infested.they are also harbouring some kind of fungus, The leaves have turned a bronze colour. I took them out, fertilised and sowed some climbing beans in their place. The leeks have not worked again so I will have to go get some plants. I will not sow them again, it's a waste of time and space and seed. The courgettes are looking great, they are in flower already. The accocha is still fairly small but it has grown and is putting out tendrils, so I put in some pea sticks to help it climb. The tomatoes are very sturdy and I tied them in and mulched as best I could. This weekend we have eaten - lettuce, baby leaves, chives, rosemary and mint, the first snow peas, some broad beans and a few strawberries and more rhubarb (the best crop ever). The weather has been very warm but with some night rains and this seems to make the plants thrive. Soon we will be harvesting gooseberries and red currants and the garlic will probably be ready in a week. On holidays recently I saw something very unusual - a field of artichokes! Pics to follow...

Tuesday, May 27, 2014
Beans and squash
The summer planting is finally done. This weekend, I managed to get a good bit of work done, it was rather satisfying! As I had covered the patch where the runner beans were to go, it was a doddle - turned it over, dug a trench and filled it with a box full of kitchen scraps - newspaper, veg peelings, rotten fruit etc - then filled it in and planted straight over the top. That should keep their feet moist and give them lots of nutrition over the summer! I bet anything that when I dig it over in October, I find nothing but soil... Sowed 5 White Lady beans and 10 Enorma. See what happens. The peas have just not worked, too late now, so I replaced them (except the Mangetout) with Blue Lake and Cobra climbing beans. I also sowed some Waltham butternuts and some Uchiki Kuri seeds for squash. The gooseberries were getting a bit squashed by those yellow california poppies so I cut them back, put rhubarb leaves all around the goosegogs (so far has been brilliant for keeping away the sawfly) and netted the bush. It is full of fruit, more jam, yum. The raspberries are sulking a bit but I have fruit on both the redcurrant and blackcurrant! The other crops are doing pretty well. I have good germination for the carrots and parsnips and even the beetroot. I transplanted a few beetroots to an empty patch. The lettuces are doing nicely and the NZ spinach seem to have taken, even though it has been wet and chilly. The courgettes under cover have really taken off, and the tomatoes and peppers are getting bigger despite the cool patch. The only things not doing so well are the cucumbers. I will sow some more I think. In any case, the plot is pretty tidy - I had time to cut the grass with the lawn shears (mulched the tomatoes with it), hoe and weed the onions and nip the tops off the broad beans (badly affected with aphids I am afraid).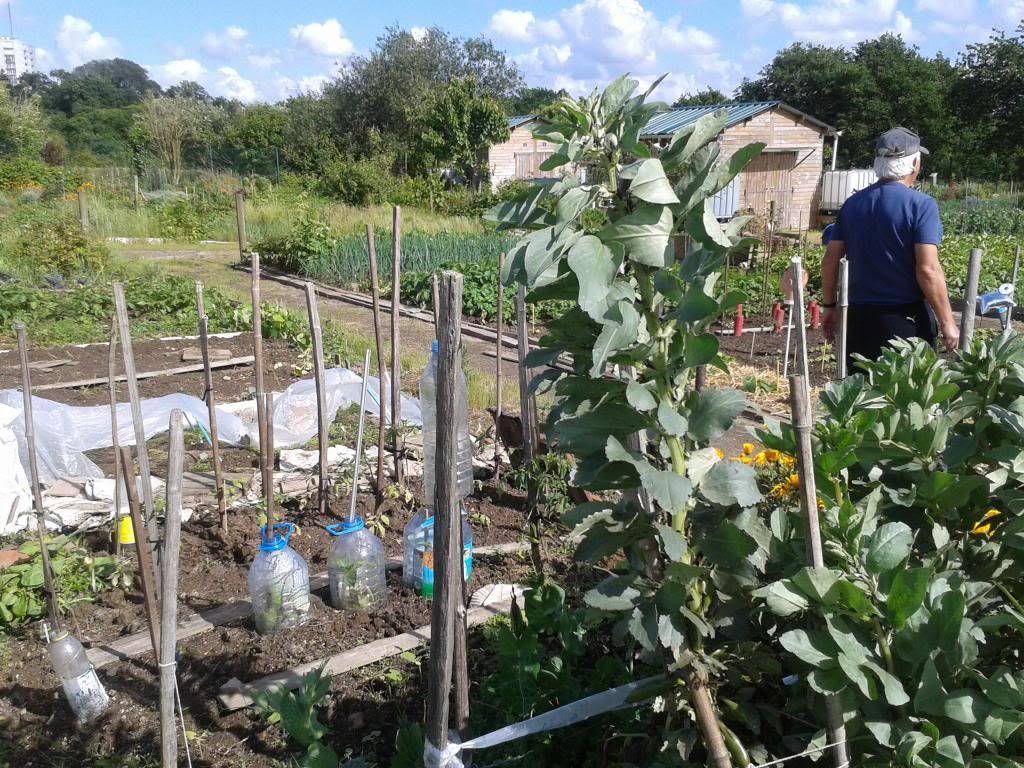 As for harvesting, we ate - loads of rhubarb again, about 400g strawberries (despite the wet weather), a small bag full of baby leaves, a few broad beans (that unfortunately got burned in the saucepan by the family on Mother's Day!) and lo, the first potatoes! At least 600g of lovely Belle de Fontenays, and as I just firkled for the biggest ones, hopefully there will be more of that in the next fortnight. Onions and spuds: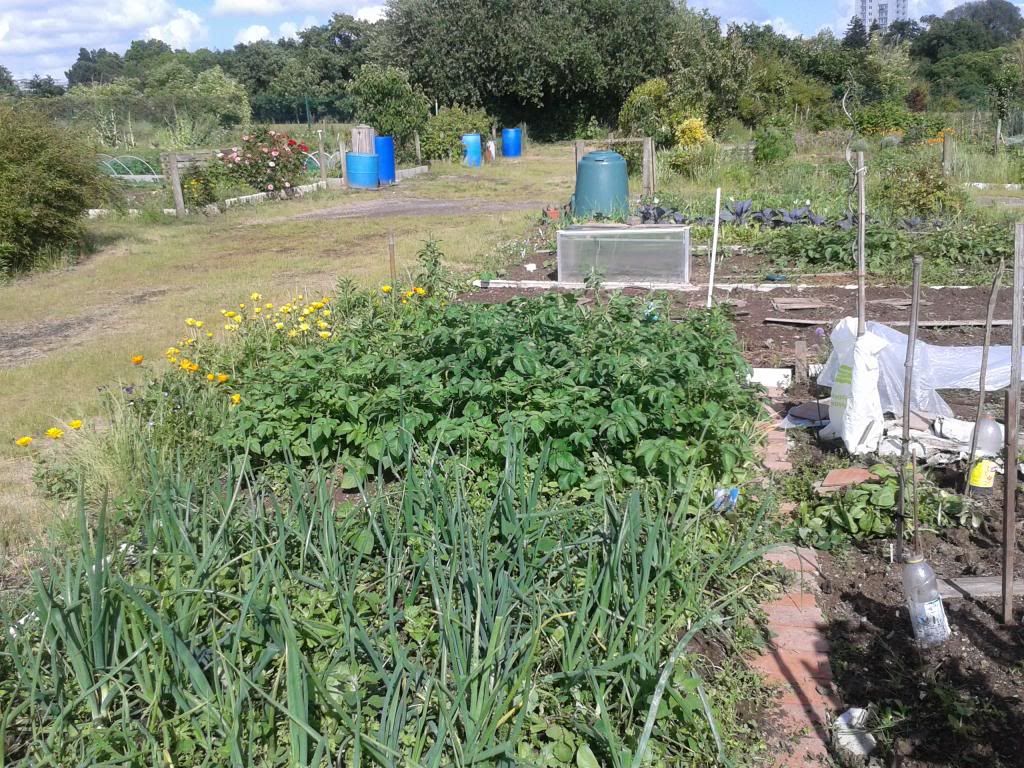 Once the spuds come out, no time to lose, I will get sowing more French beans, carrots and beetroot. And later, the brassicas...
Tuesday, May 13, 2014
Hail the planting of the tomatoes
Ok that was a bit of a smart arse title, as I had no sooner planted the tomatoes than it HAILED! I had taken the day off to do the last planting out and it was a bit of a challenge as the weather was not the best, a little stormy. Still, I got down the plot at about a quarter to two, and was able to dig over the tomato bed (it had been covered so was pretty easy), add a bucketful of compost and break up the last clods of manure. A shower came so I hid in the shed, luckily I had brought a thermos of coffee. After about ten minutes, the sun cameout again so I got to work, planting 4 sweet peppers and 9 tomato plants: 2 Sungold cherries, 1 Green Tiger, one Golden Sunrise (yellow), 2 beef steaks and 2 Coeur d'Albenga oxheart types, plus a "mystery" plant that came in a packet tantalisingly called "Mixed". It looks to me like a bush type so who knows what I will get. I also spent a good while weeding, and I noticed with some annoyance that some of the onions seem affected by that stupid weevil again. I took out the curly ones with a heavy heart and planted some lettuce in its place. I also sowed some more mangetout. The peas curiously do not seem to have worked this year... The broad beans however are smashing. As the brassicas too don't seem to have worked, I sowed more and fleeced them this time. That seems to help germination. The carrots and parsnips have both germinated so a small victory there. The potatoes are also doing well, if I have time it would be a good moment to put some bordeaux mixture on them. Just as I was leaving, the sky grew menacingly black and I decided to hold off for 5 minutes. Just as well as it started to HAIL!!! I was scared for the tomatoes, but on inspection afterwards they were just splattered with dirt but unharmed, and the peppers are under cloches. Phew. The courgettes too are still under plastic so they are OK. A surprise battler is the Accocha (Fat Baby). Under a plastic bag, they are going great guns! All that is left now is to put in butternuts and a pumpkin if there is room and the runner beans. A god day's work even if my back hurts!!

Sunday, May 04, 2014
Start of summer crops
A warm spell accompanies the start of May so it's time to look after the tender summer crops. I sowed two small rows of Tendergreen French beans, and planted out some lettuce, 2 tomato plants that were getting rabid (a Golden Sunrise type and a mystery tomato from a mixed pack), two cucumber plants, two courgettes, a yellow courgette and a pattypan squash, plus 2 Fat Baby Acchoca, a new trial!!!! The broad beans have baby beans! Almost ready.

Sunday, March 30, 2014
Spring in full swing
March has been mostly clement, although still fairly wet. Up to now I have managed to put in: The onions, brown and red Potatoes - Belle de Fontenay earlies, King Edward 7 mains and a few Pink Fir Apples that I had stored 5 jerusalem artichoke bulbs Peas - Alderman talls, Early onward and Golden Mangetout which were so prolific last year The first rows of roots - Early nantes carrots, beets (Bikores and Cheltenham Greentop) and Milan purple turnips And the new plot is already looking pretty full!!! Not sure where I will squeeze in the rest. A friend gave me an old window! SO I am set up to build a small cold frame. Which is just as well because I really need to get going on some of the brassicas which will go in when the spuds start coming out. It is so nice to see the signs of spring. Buds are green and fresh on the grapevine, the raspberries, the redcurrants (which even have delicate flowers on them), daffodils seem to have sprung up by themselves! (do they propagate underground??) and the herbs like rosemary and thyme are covered in tiny fragile flowers.

UPDATE From February 24
This is an entry that I wrote but did not get around to posting! 24 February 2014 Finally a dry (ish) day after this long wet winter period, rain almost every day since November and astonishingly mild temperatures. On the plot, little tulips were springing up and daffodil stems. The rosemary is covered in tiny purple flowers, some of the raspberry bushes are starting to bud, the rhubarb is breaking out its first small stems and the Brussels sprouts have started putting out flower buds. Spring is tentatively upon us, a little early but nothing too radical. The soil is still thick and cloying and I admit that I went a bit barmy with the manure, as I ordered for half a plot what I would normally take for a full one. oops. Oh well, hopefully it will mean bloody big veg! Digging it in is a nightmare though. I managed to turn over enough ground to plant the first onion sets (100 brown onions are in, and about another 80 to go, plus the red ones which I will leave a wee bit yet), and 7 potato plants (earlies, Belle de Fontenay) plus a small patch of radishes. For the rest of the time, I hauled the manure around a bit, put down some borders around the edges of my new reduced space, and continued laying a path down the middle of the plot. I now have more than enough paving material, which is a change as I was always missing some in the past! It is still too cool and wet to think about much else but I am already looking at the pea bed menacingly. I chucked a few broad bean seeds in a couple of weeks ago to see what would happen - to my surprise, 8 plants are already growing! I will sow some more next weekend to fill in the gaps and get those pretty broad beans off to a flying start.

Monday, January 20, 2014
She's back...
After 6 incredibly hard months plagued by personal problems and some health issues, I am back blogging. Due to these issues I have made the difficult decision of cutting back to a half plot this year. I am hoping that this will allow me to better spend my available time for gardening and have a successful crop due to more efficient car. Having to spend less time worrying about weeds, paths and such may allow me to spend more profitable time on the plot. So the moving work is going on in earnest. I have redone the strawberry bed with some help from my friend Nathalie. With quite a lot of puffing and straining I managed to unearth the gooseberry bushes, and transplant the largest one to the "new" plot (which is actually the top half of the current plot), and another one onto the edges of the site so at least birds and passerbys can eat the fruit! I left the third one for the new tenant, if he doesn't want it, I will move it too. I took 5 raspberry bushes, and there seem to be an awful lot more, more than I had put in originally in any case! I seem to remember buying 4 bushes to start with!!! Raspberries are rampant. I also dug up the grapevine and move it beside the shed, hopefully this will be a warmer spot and it may enjoy it. I can train it along the shed wall and gain some space too. So now in terms of perennials, I have 3 artichokes, 3 rhubarbs, 5 raspberries, One gooseberry, one redcurrant and a grapevine as well as a strawberry bed with about 15 strawberry plants. I have rosemary, sage, thyme, parsley and mint and hope to add basil and tarragon this season. I hope to use more successive sowing and to use catch crops such as lettuce and radish while slower growing crops grow around them. Like lettuce under the broad beans. I need now to finish the new paths using the material I recover from the far end of the plot (it is still abundant in old wood, stones and terracotta tiles which I will put to good use) and prepare a seed bed for the new sowings. A friend renovating his house has old windows, and I will try and get one of them to use for a cold frame, it would be ideal. I hope that I will have much better success this year with the seedlings, as I will be able to give them more attention. I bought in many of the new seeds, just have to get some more pumpkin seeds and I have my eye on some from Amazon and Ebay for that. Otherwise the list of crops is looking something like this: spring/summer: carrots, beetroot, lettuce, mizuna, radish, turnips, tetragone (NZ spinach), tomatoes, peppers, courgettes, peas, beans, broad beans, onions, echalote, spring onions, garlic, potatoes, cucumbers Autumn/winter: winter squash (hopefully CrownPrince and Uchiki Kuri pumpkins and butternuts), cabbages (green and red), cauliflower, parsnips, brussel sprouts, sprouting broccoli, romanesco, leeks, pakchoy, swiss chard, Jerusalem artichokes, late carrots and turnips, lamb's lettuce, rocket, mizuna also.

Subscribe to Posts [Atom]