Sunday, March 30, 2014
Spring in full swing
March has been mostly clement, although still fairly wet. Up to now I have managed to put in: The onions, brown and red Potatoes - Belle de Fontenay earlies, King Edward 7 mains and a few Pink Fir Apples that I had stored 5 jerusalem artichoke bulbs Peas - Alderman talls, Early onward and Golden Mangetout which were so prolific last year The first rows of roots - Early nantes carrots, beets (Bikores and Cheltenham Greentop) and Milan purple turnips And the new plot is already looking pretty full!!! Not sure where I will squeeze in the rest. A friend gave me an old window! SO I am set up to build a small cold frame. Which is just as well because I really need to get going on some of the brassicas which will go in when the spuds start coming out. It is so nice to see the signs of spring. Buds are green and fresh on the grapevine, the raspberries, the redcurrants (which even have delicate flowers on them), daffodils seem to have sprung up by themselves! (do they propagate underground??) and the herbs like rosemary and thyme are covered in tiny fragile flowers.

UPDATE From February 24
This is an entry that I wrote but did not get around to posting! 24 February 2014 Finally a dry (ish) day after this long wet winter period, rain almost every day since November and astonishingly mild temperatures. On the plot, little tulips were springing up and daffodil stems. The rosemary is covered in tiny purple flowers, some of the raspberry bushes are starting to bud, the rhubarb is breaking out its first small stems and the Brussels sprouts have started putting out flower buds. Spring is tentatively upon us, a little early but nothing too radical. The soil is still thick and cloying and I admit that I went a bit barmy with the manure, as I ordered for half a plot what I would normally take for a full one. oops. Oh well, hopefully it will mean bloody big veg! Digging it in is a nightmare though. I managed to turn over enough ground to plant the first onion sets (100 brown onions are in, and about another 80 to go, plus the red ones which I will leave a wee bit yet), and 7 potato plants (earlies, Belle de Fontenay) plus a small patch of radishes. For the rest of the time, I hauled the manure around a bit, put down some borders around the edges of my new reduced space, and continued laying a path down the middle of the plot. I now have more than enough paving material, which is a change as I was always missing some in the past! It is still too cool and wet to think about much else but I am already looking at the pea bed menacingly. I chucked a few broad bean seeds in a couple of weeks ago to see what would happen - to my surprise, 8 plants are already growing! I will sow some more next weekend to fill in the gaps and get those pretty broad beans off to a flying start.

Monday, January 20, 2014
She's back...
After 6 incredibly hard months plagued by personal problems and some health issues, I am back blogging. Due to these issues I have made the difficult decision of cutting back to a half plot this year. I am hoping that this will allow me to better spend my available time for gardening and have a successful crop due to more efficient car. Having to spend less time worrying about weeds, paths and such may allow me to spend more profitable time on the plot. So the moving work is going on in earnest. I have redone the strawberry bed with some help from my friend Nathalie. With quite a lot of puffing and straining I managed to unearth the gooseberry bushes, and transplant the largest one to the "new" plot (which is actually the top half of the current plot), and another one onto the edges of the site so at least birds and passerbys can eat the fruit! I left the third one for the new tenant, if he doesn't want it, I will move it too. I took 5 raspberry bushes, and there seem to be an awful lot more, more than I had put in originally in any case! I seem to remember buying 4 bushes to start with!!! Raspberries are rampant. I also dug up the grapevine and move it beside the shed, hopefully this will be a warmer spot and it may enjoy it. I can train it along the shed wall and gain some space too. So now in terms of perennials, I have 3 artichokes, 3 rhubarbs, 5 raspberries, One gooseberry, one redcurrant and a grapevine as well as a strawberry bed with about 15 strawberry plants. I have rosemary, sage, thyme, parsley and mint and hope to add basil and tarragon this season. I hope to use more successive sowing and to use catch crops such as lettuce and radish while slower growing crops grow around them. Like lettuce under the broad beans. I need now to finish the new paths using the material I recover from the far end of the plot (it is still abundant in old wood, stones and terracotta tiles which I will put to good use) and prepare a seed bed for the new sowings. A friend renovating his house has old windows, and I will try and get one of them to use for a cold frame, it would be ideal. I hope that I will have much better success this year with the seedlings, as I will be able to give them more attention. I bought in many of the new seeds, just have to get some more pumpkin seeds and I have my eye on some from Amazon and Ebay for that. Otherwise the list of crops is looking something like this: spring/summer: carrots, beetroot, lettuce, mizuna, radish, turnips, tetragone (NZ spinach), tomatoes, peppers, courgettes, peas, beans, broad beans, onions, echalote, spring onions, garlic, potatoes, cucumbers Autumn/winter: winter squash (hopefully CrownPrince and Uchiki Kuri pumpkins and butternuts), cabbages (green and red), cauliflower, parsnips, brussel sprouts, sprouting broccoli, romanesco, leeks, pakchoy, swiss chard, Jerusalem artichokes, late carrots and turnips, lamb's lettuce, rocket, mizuna also.

Monday, August 12, 2013
August - pics
Despite the favourable conditions, some plants are still relatively slow to fruit. However there are tomatoes galore, pity is they are still all green! I have a beautiful vine growing, they seem to be some kind of huge pear shaped tomato, I must save seed as they are very vigourous and heavy cropping:

Monday, August 05, 2013
Odd squash
I had this down as a cucumber but now I have doubts. Maybe some kind of lemon cuke? The fruit was actually stuck in the plastic bottle used for watering! I had to break the bottle to get it out. Any ideas on what this is??? The plant: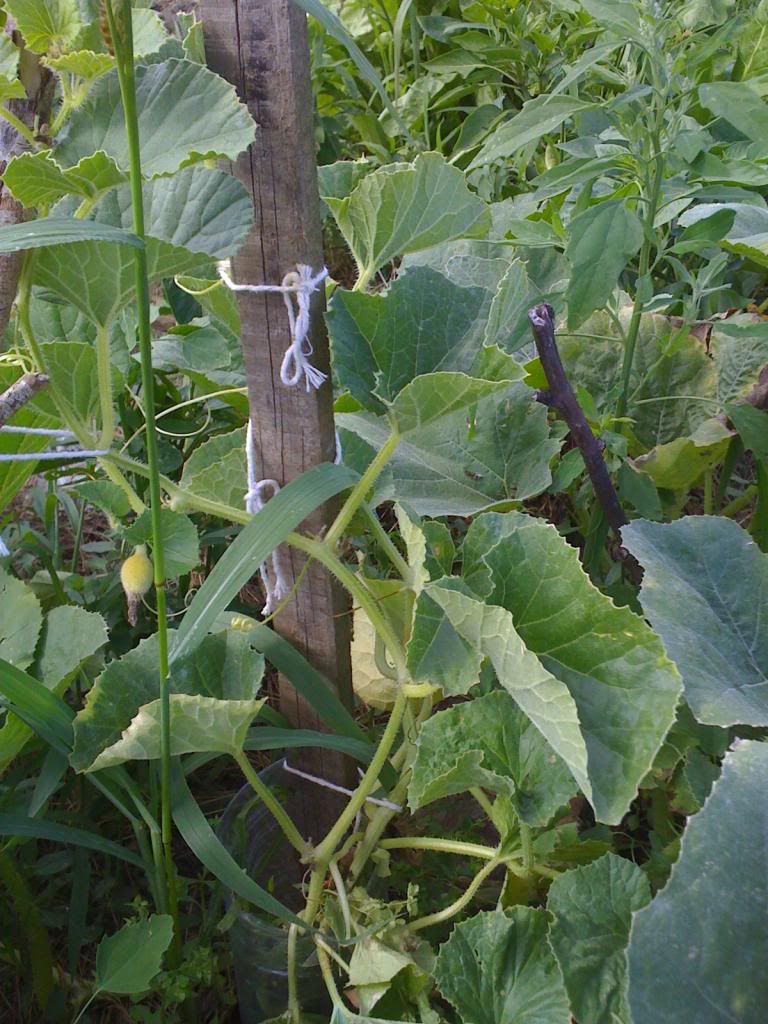 The fruit: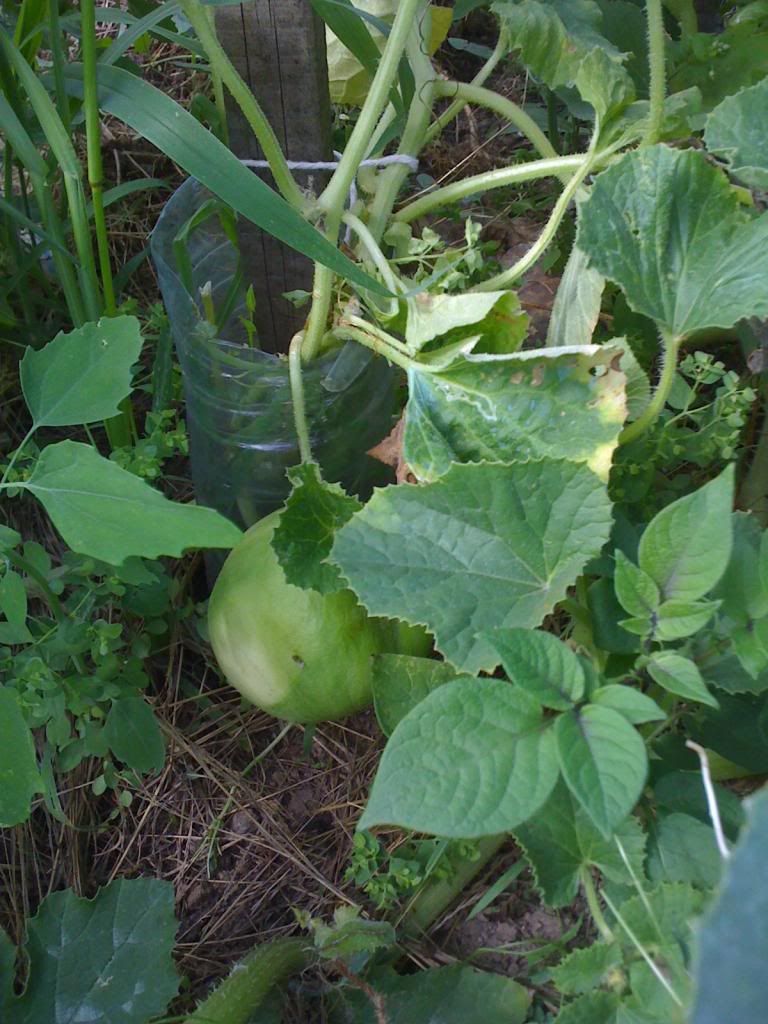 And a baby fruit just forming:
Trouble is, as I am unsure of what it is, I don't know whether or not to pick it!!!
Tomatoes 2013
A great year for tomatoes, after all the blight of previous years! I have 14 plants including a nice plant of small salad tomatoes;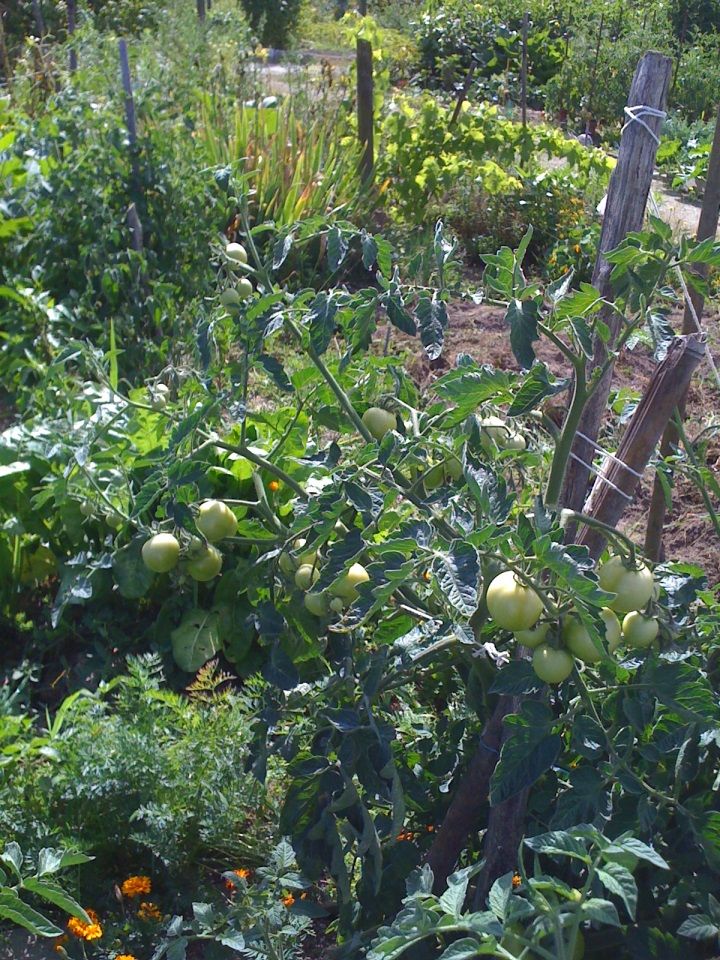 Then there are the yellow tomatoes, which have an odd flat shape. They have a beautiful citrus flavour though: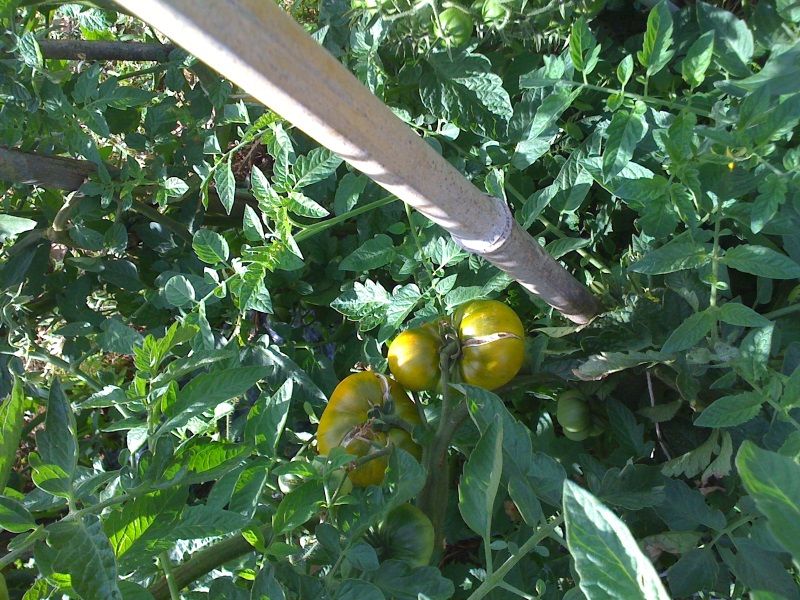 And some odd shaped ones which I think are called a Coeur d'Albenga. They are all from saved seed: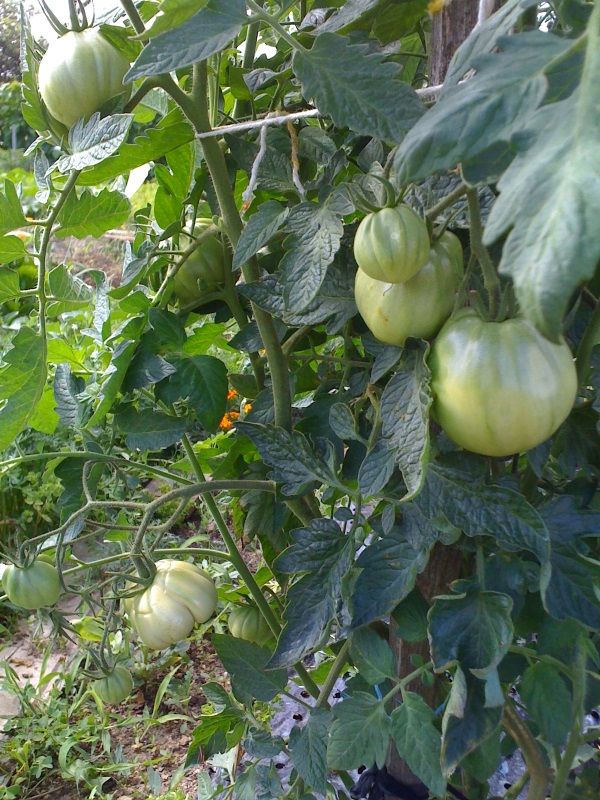 It would be nice if they could hurry up and ripen! We are starting to eat the yellows and some cherry tomatoes too.
Wednesday, July 24, 2013
Pottering
As the evenings are long and warm, there is little better than pottering around the veg garden. Doing those little jobs that nag at you but usually you are too busy doing something else. Like ripping out the bind weed that had started climbing over the cabbage netting (it really is an insidious bastard), like ripping out the weeds that is pretending to be Jerusalem artichoke plants but I know better (I've now spotted the real ones as they are growing and all imitators shall be buggered). Like adding fertiliser and compost to the tomatoes, peppers, squashes, beans. And watering, endless watering again. Still, I came home with a handful of beans, 6 sticks of rhubarb (that's it now, time to stop picking) and raspberries. The greatest treasure though were 2 small tomatoes!!! Not because of their flavour, which was nothing to write home about but because they mean that the other tomatoes on the other plants will soon be ripening too! The tomatoes are quite varied this year: long Roma tomatoes, two cherry tomatoes (but not especially bushy types or perhaps I pruned them better than usual!), at least one beefsteak and one I think will give a striped tomato. The largest plant is laden with smaller salad type tomatoes but I have no clue as to the varieties this year. They are surprise tomatoes!!!

Tuesday, July 16, 2013
Photos July 2013
At last a few photos!
My lovely Imperial Green longpod broad beans! A wonderful harvest of those.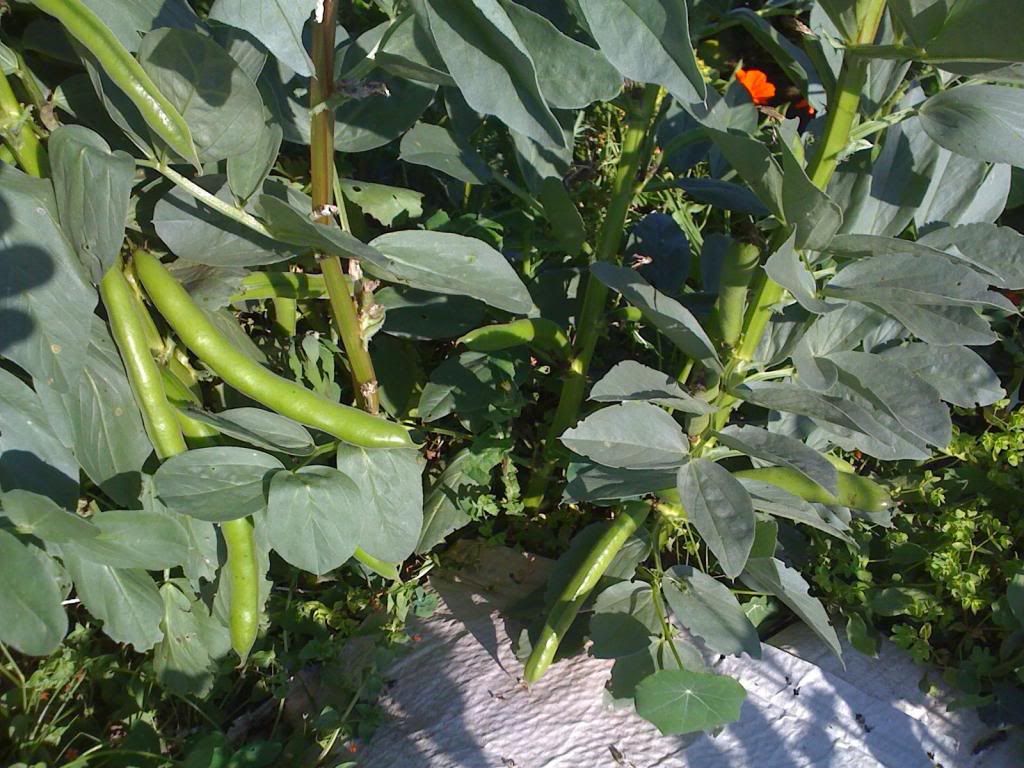 You can see here how tall they got: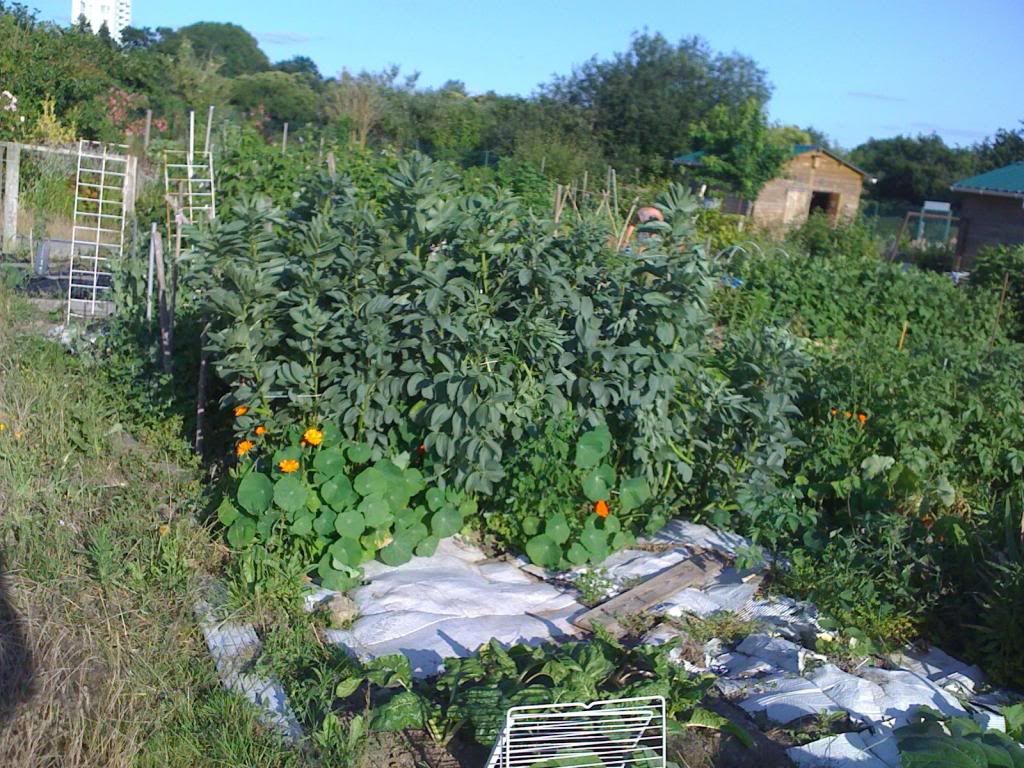 The peppers are doing pretty well, some have tiny fruit on them: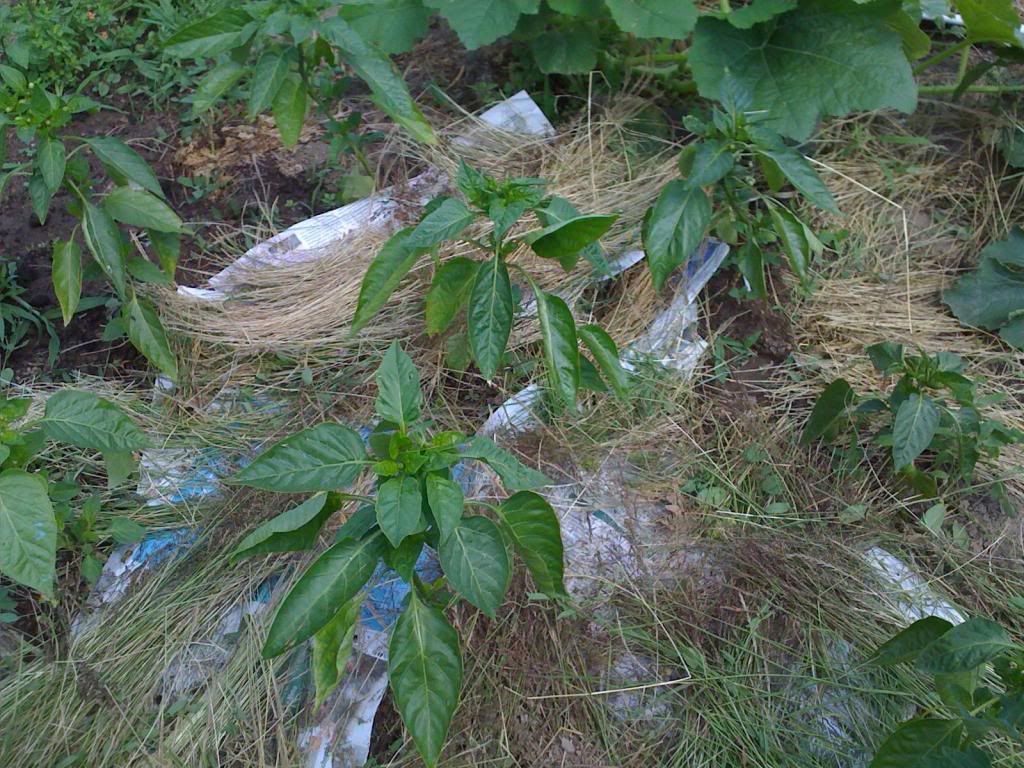 The first tomatoes - I was starting to give up hope of ever having a tomato crop again after 2 years of blight. But these are looking very strong.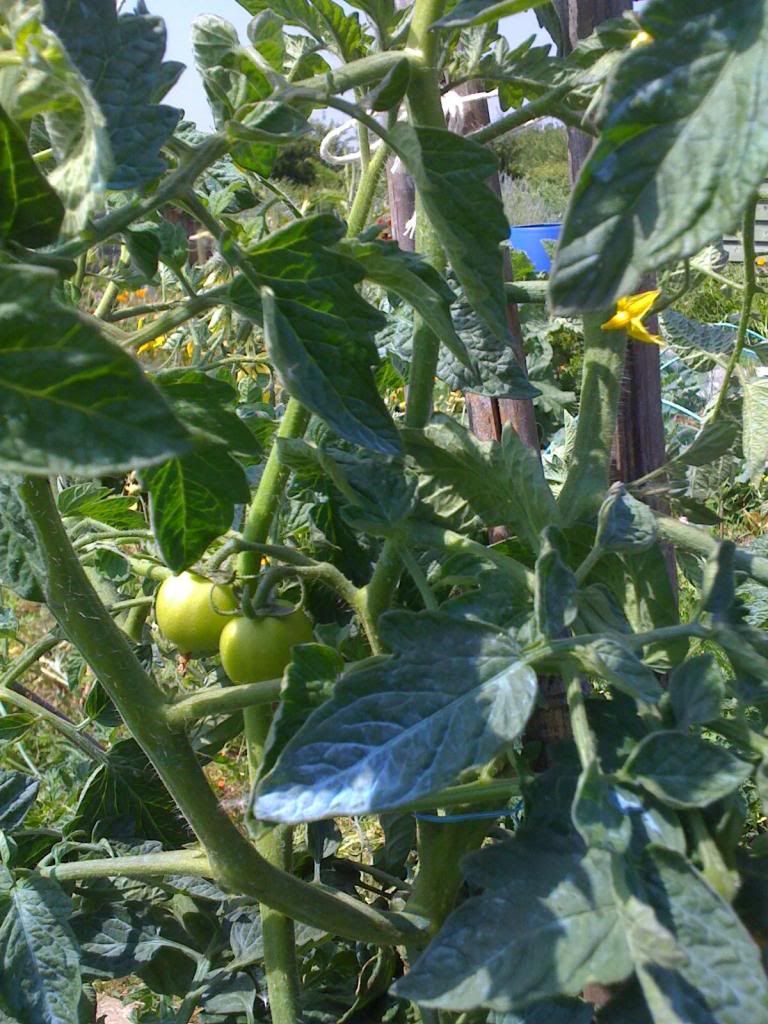 Some lovely cucumbers, they seem to enjoy the hot weather.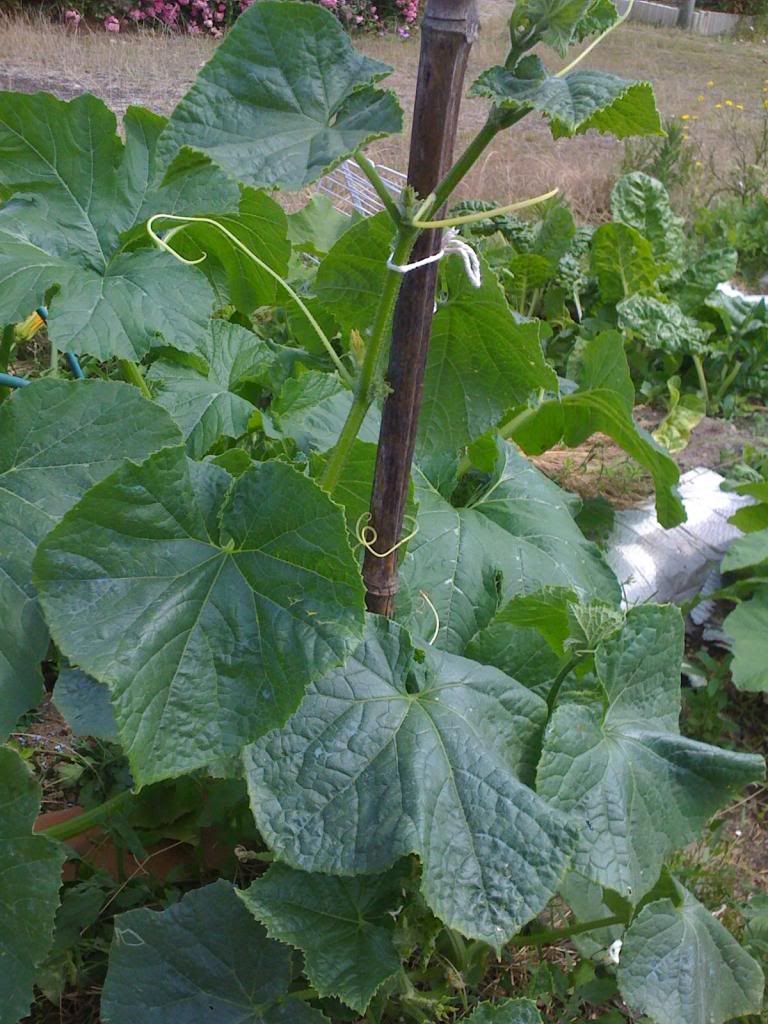 The squash are doing particularly well. I have butternuts, 3 courgettes (green, yellow and patty pan) a Pink Banana, a mystery squash (will know when it grows) and a red Uchiki pumpkin.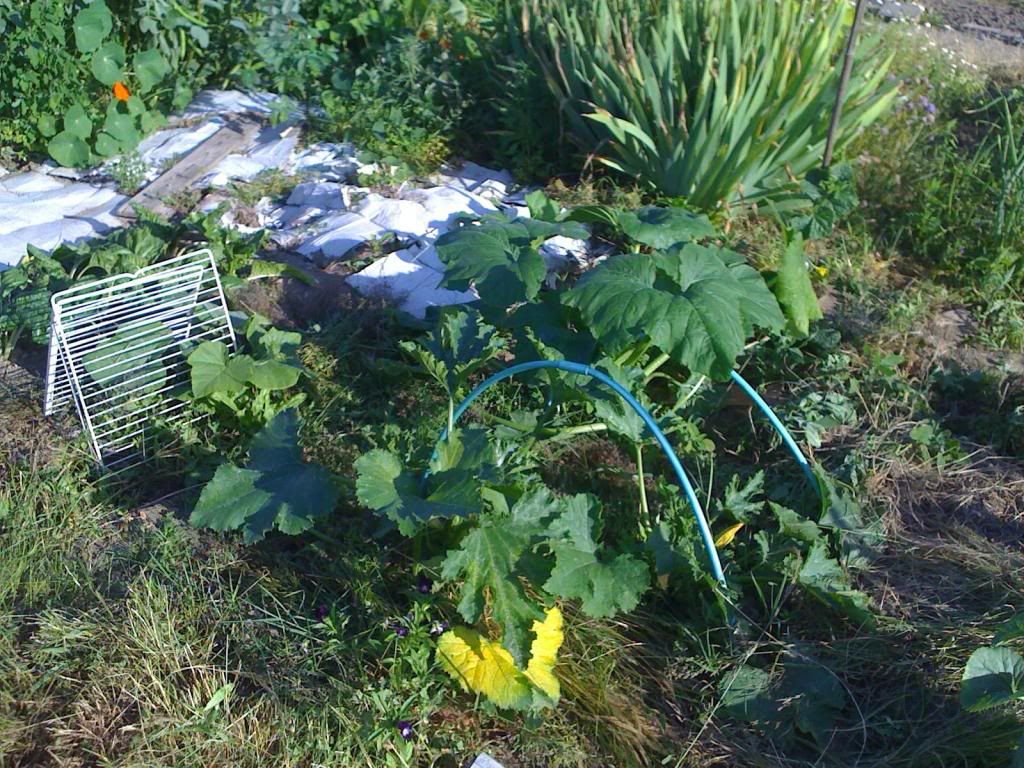 hot hot hot
The weather after so much rain and cold has now gone to a different extreme and we are having our third week of hot dry conditions. Which means back to watering...
The garden seems to thrive though. The garlic is harvested and dried and ready to plait, the broad beans have one more crop left in them, onions are almost ready and the French beans have started to crop. The tomatoes are doing really well and I hope to have ripe fruit really soon. After two years with only blight to show it will be a relief! I have pics but no time tonight to load them.

Wednesday, July 03, 2013
Strange season
It's still a funny old summer. Temperatures are extremely variable, depending on the cloud cover yet there is reasonably high humidit. Sounds unfortunately like perfect blight weather. Still, the tomatoes seem to be holding their own. I have decided that at least one has turned out to be a cherry type, as one is decidedly bushy compared to the others. It's looking like a Gardener's delight although could also be a Roma plum. Remember that i could not label them this year so it's all down to luck what comes up! I sprayed them again yesterday with bordeaux mixture so they are nicely blue now. The poppies next to them are dying down so I will cut them away so the tomatoes have maximum airflow. I have been much more successful this year in staking and tying them, and they have more room for each plant.
The courgettes too are doing very well, there are some flowers and I hope to have fruit starting soon. the butternuts are also flowering.
I am still harvesting the new potatoes, there is a very large quantity of them this year and the flavour is excellent. I also started picking the broad beans - what a harvest! I took only the very largest pods from the base of the plant, there are many many more still developing and I still had a small plastic bag full! I might actually get to freeze some this year.

The runner beans have germinated, some better than others, I will have to fill in the gaps! I still have to sow new rows of French beans this weekend, and I will do more climbers in July. I am hoping they will develop either before my holidays or once we get back!

The parsnips do not seem to have germinated... It is quite late but I think I will try to put in another row and see what happens. Not sure how to get them to work really.
The salads I planted out seem to have taken despite a drier few days, and the beetroots that I transplanted have now sprung back quite well.
As for fruit, the raspberries are showing the first white baby berries, so I should have ripe fruit soon. The gooseberries are starting to turn red, must keep an eye on them. The strawberries have finished their first flush, they need tidying, weeding and fertilizing for the next crop which should be in July.

Despite the odd weather, the plants are growing quite well. Next tasks will be to find some leek plants, and to continue sowings of beets, autumn carrots, beet spinach, winter brassicas, beans and plant out the late sowings of cukes and courgettes that have come through. No rest for the wicked!

Subscribe to Posts [Atom]