Tuesday, April 23, 2013
At last some movement
Spring has somewhat timidly arrived but I have decided that the work on the plot cannot stop now. Last weekend, I worked pretty hard, weeding, covering the unused sections, and mostly sowing.
I now have the seed bed on the go, and the root veg. The peas and broadies are up, even though there are lots of gaps in the peas (have to sow some gap fillers there!). Leaves are breaking through on the early potatoes too, at last.
I have not yet put down the list of veg and varieties for this year so here goes:
Carrots (first sown 14 April) Early Nantes
Beetroot (14/04) Cheltenham greentop and Boltardy
Turnips (14/04) Snowball and Milan Purple top (already germinated)
Mizuna (14/04)
Radish (14/04)Sparkler (already germinated)
Lettuce (14/04) Little Gem and some red and green oak leaf - I already have some plants thriving in another corner!
Ishikura Bunching onions (14/04)
Garlic chives (14/04)
Cabbage Red Drumhead (21/04)
Leeks Winter Giant (21/04)
Leeks Zermatt (21/04)
Beets in module (21/04) Cheltenham greentop
Brussel sprouts (21/04) Samba variety


In March, sowed Early Onward peas, and Imperial Green Longpod Broadies (which are looking beautiful!). Still have to get in the Alderman tall peas (running late) and I also have some Oregon Sugar Podsugar snap peas which need to go in.

Indoors, the tomatoes are veritable triffids. I am going to sow this week the first cukes and courgettes to get a headstart ( I have Nero Di Milano and some pattypan squash and trying Bedfordhsire Prize cukes although I also have some burpless green from last year left too).

Monday, April 15, 2013
Spring arrives!
And it's none too soon. Yesterday was a brilliant sunny day and a few hours in the garden were well used. Despite my hand still causing some pain, I managed to dig in the last few potatoes (Allians type, supposedly a second early/late variety, quite waxy, yellow flesh). I also planted out I don't know how many white spring onion bulbs and sowed in some seeds of Garlic Chives (here called Ciboulette de Chine, or Chinese chives, I have never tried them before) and some bunching onion seeds, which probably won't work as usual!
I reworked the bed of early sown seeds, all of which seem to have been killed off in the cold wet weather of March and early April. in their place I sowed: a new row of mizuna, some turnips, Ealr Nantes carrots and some Boltardy beetroot. In another space I sowed radish (Sparkler) and some mixed lettuce seed. I would have liked to have done more, but time did not allow me to. I went and got some heavy cardboard that had been stored up and covered the undug parts of the plot: my arm won't let me dig as I would normally do so I must work to keep weeds at least to a reasonable level. I did a little weeding in the most needy parts and hopefully I could pop down later this week and do another half an hour here and there, like howing the onions which could do with it. They have taken quite well, the echalotes showing healthy green shoots and the other varieties too, although just starting. I thought I spied a potato plant peeking through the surface: I will keep an eye on that. Early earthing up also prevents too many weeds!
Spring had also brought a new flourish of sprouting broccoli (I have a nice recipe for broccoli and pasta, maybe I will make that...) and also 4 cauliflowers! Big ones too! I was thrilled with those, I have had a few caulis this last year but smaller than that. I will sow some more, as they are a veg that we like a lot. I gave one to my neighbour, and took the other 3 home, we already have eaten one!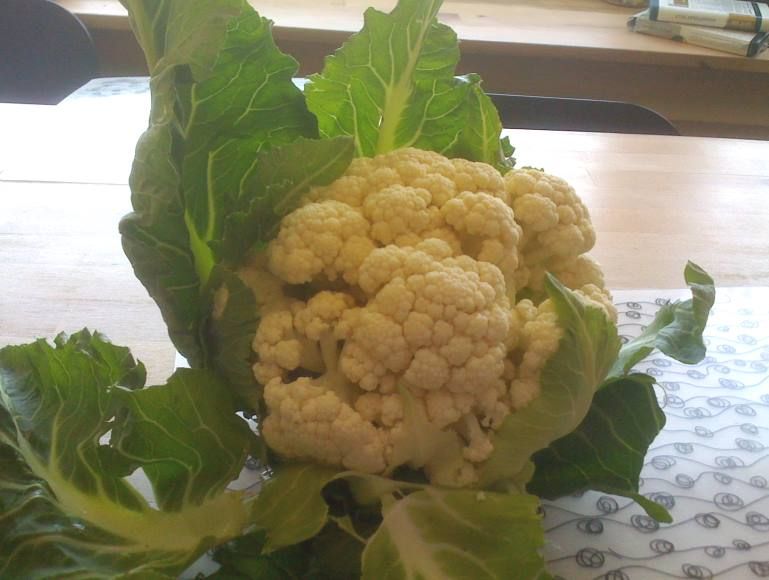 Tuesday, April 09, 2013
Back at work
After my convalescence....
The cold miserable weather continues, one of the worst springs on record. I have not even finished putting in the spuds, which is a record for me. Still, a quick check the other day showed that the broad beans were peeking through the soil so something is growing at least! I think all my early sowings are buggered though (turnips, mizune, radish).
Must prepare the seedbeds this weekend and get sowing the brassicas, salads, and other greens, like the chard, Also need to sow the carrots and parsnips, beetroot, more peas, mangetout peas and the rest of the spring onions.
Indoors the tomatoes and peppers are doing ridiculously well. But when will it be warm enough to plant them out???? They will be triffid size by then. I will not even think for now about cukes, beans and courgettes.

Tuesday, April 02, 2013
So very cold
It is April, and still the garden sleeps for the most part. I am slowly recovering from my broken wrist and with some help I did manage to plant most of the spuds and all the onions. But it has been so cold during March, apart from a few bright spells, that the sowing is hopelessly behind. I am rather worried as the peppers and tomatoes are getting so big indoors but it will be August before they go out at this rate!!!!
We went to Brittany for the Easter weekend and at a market there I found some late spuds (I have found it impossible to get the Pink Fir APples I wanted so I have given up for this year), spring onion sets and some lettuce plug plants. Hopefully those will relieve the itchy fingers, with a bit of fleece! But it surely must warm up soon. I believe it has been one of the longest winters I have seen since living here. It is most disheartening.

Maddeningly I cannot find the name of the potato type I bought. I seem to think it started with an R (Revelle? something like that) - the farmer told me it was a later variety, yellow flesh (it seems to be a brown and not red skinned variety) that is quite firm and he said they were good keepers.... so I guess it will have to be a surprise. I bought a kilo and a half and there are a good few tubers there, at least 30 and he only charged me 3.75 euros which is a total bargain.

I shall pop down to the allotment tomorrow and see how all is progressing: I found some Aquadulce broad bean seeds, the last in the packet so I shall sow them and hope for the best.



Saturday, February 23, 2013
normal service will be resumed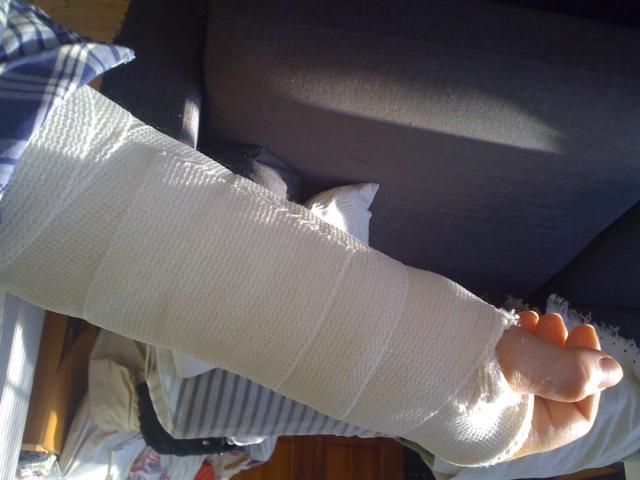 The above is the explanation of the blog's temporary interruption. A bike accident saw me break my (right) wrist in 2 places, 6 weeks in a cast and more weeks of physio. Almost ready for the cast to come off! Meanwhile the garden must wait. Almost.
The 5 months of rain has turned into a bitter cold snap. But the garlic as come up nicely and with help from my kids, the echalotes and onions are in the ground.
Friday, January 11, 2013
At last blue sky
After weeks and weeks of soggy drizzly weather, a dazzling light this morning was such a surprise, many of us wondered what it was. The sun, of course. The clouds have given way to a spotless blue sky but no doubt some low temperatures on the way.
I had better go to the plot on Sunday and put down cloches on the lettuces, if they are not ready to eat.
I was already dreaming of planting shallots, broad beans, onions but maybe the cold snap will bring me back down to earth! Still, February is just a few weeks' away and I will soon be buying the onion sets, and looking for seed potatoes. If possible I am going to stick with the Belle de Fontenany earlies, so tasty, find some PinkFir Apple to plant as lates and see if I can't get those Claustar again - they gave a great yield. If I can't get those I am going back to Desiree.

New ideas for the new season? I am trying new varieties of Broad beans and peas, including snow (mangetout) peas this year, to change, perpetual spinach ( I tried a neighbour's and was impressed so I will give that a go, she said it was as easy as growing weeds :-) ) And I thought of trying white onions for a change, for salads. I have been growing reds but by winter I am fed up of them and they don't always keep that well. More variety this year. Big space for onions this year so I will fill it up!

Monday, January 07, 2013
New Year resolution 2013
Well, I guess that would be to blog more regularly! In winter it is a challenge as the plot is mostly resting but that is a poor excuse!
I was down the plot on Saturday, cleaning out my shed and moving to a new, better-located one where I will have some room to put a work table, pots etc. It will look smashing soon, I hope.
I threw out loads of garbage, keep "just in case".... The shed now looks pristine and tidy, just got to keep it that way.
The ground is sodden, after an extremely wet winter. At least it will be easy to dig over come spring! The mild temperatures have produced suprising effects. My beautiful Christmas rose is covered in white and pink blooms, very pretty: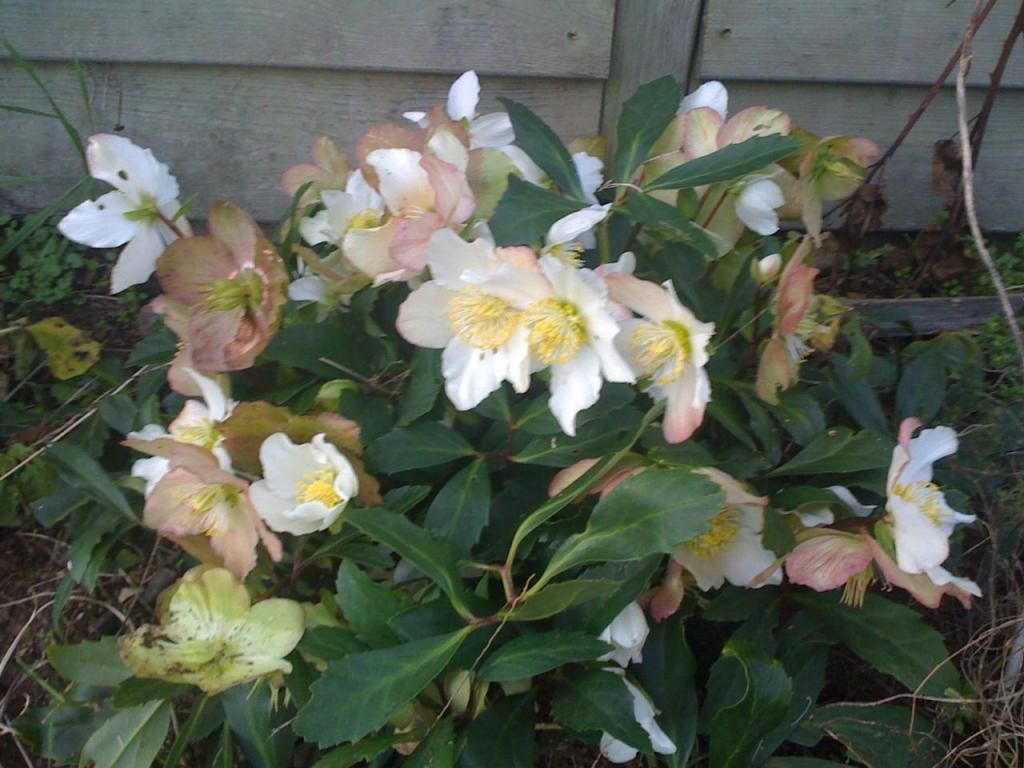 The artichokes are also not in their usual resting mode and have quite a lot of foliage for this time of year. Doesn't matter much, if there is a cold spell it will die back then produce more a bit later: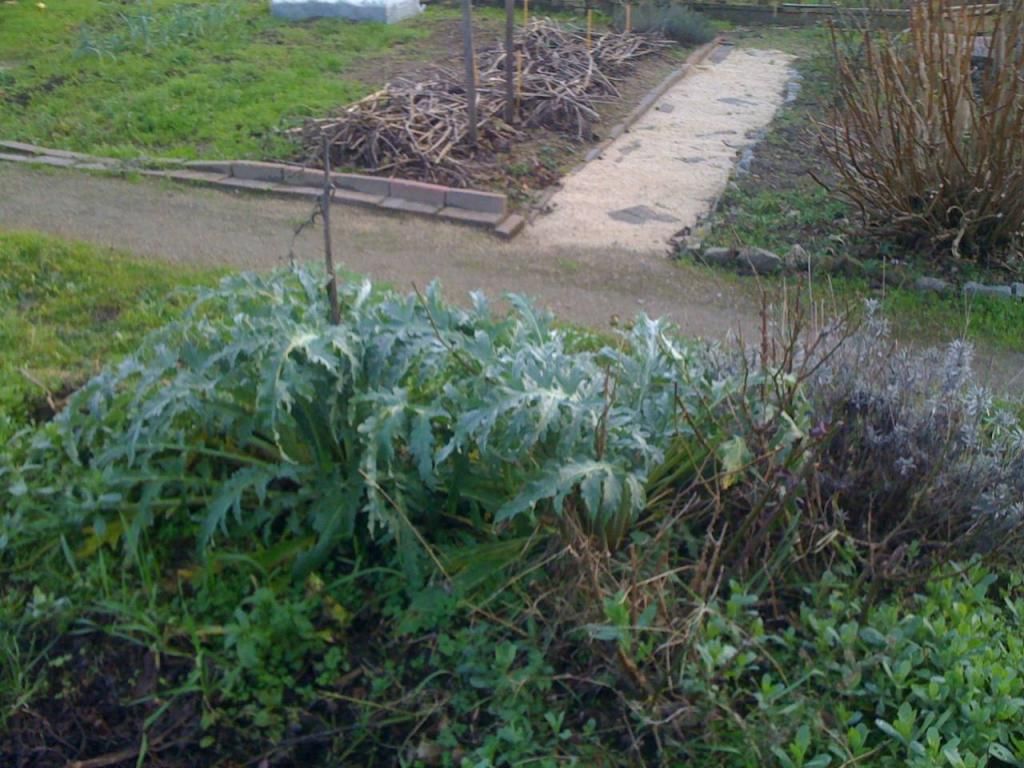 The plot is enjoying a bit of rest, I try not to touch it too much in winter. It is still giving Swiss chard, brussel sprouts and cauliflowers. The garlic is planted and I can't wait till I can get in echalotes and broad beans (Yes, sucker that I am, I have decided to put a few in again this year. Sod it if the others don't like them. I do and will eat them myself! They produce so consistently that it seems silly not to grow them.). Then I will be buying the onions and spuds, sowing peppers and tomatoes and peas... and the new season will be upon us!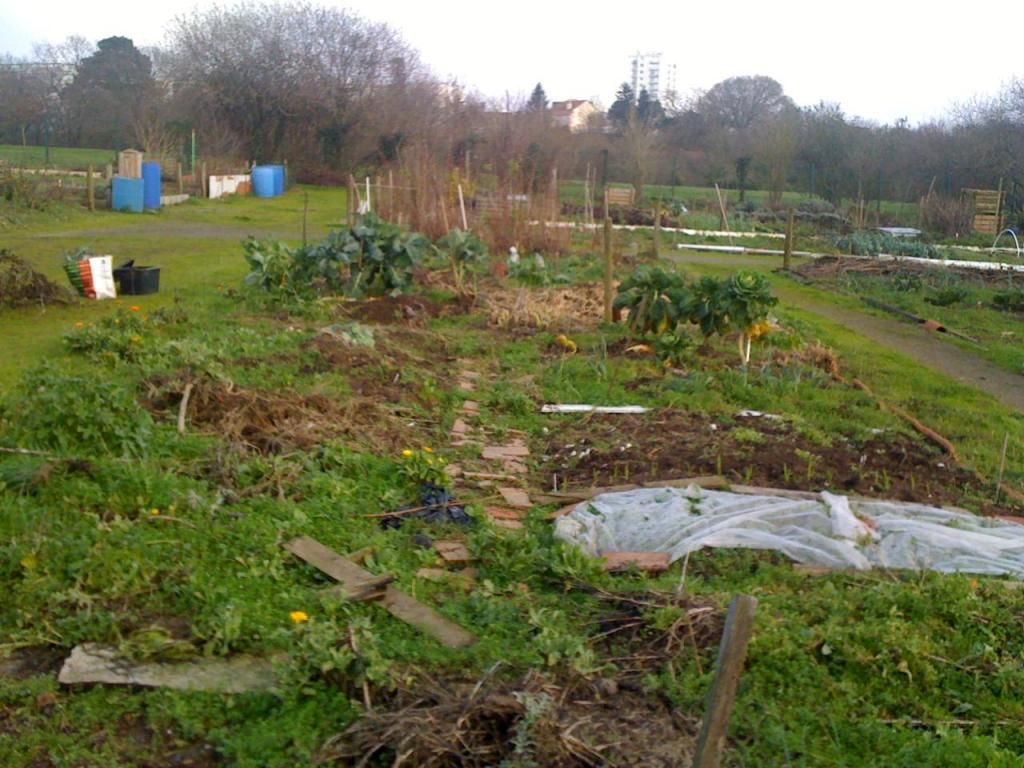 Subscribe to Posts [Atom]