Monday, August 27, 2007
Only had time for a quick foray into the garden this weekend. TO my suprise, not all the tomato plants were dead but had continued to grow, unsupported and spreading out on the ground!! So I had to lift them all up and tie them to the stakes that were behind them (I had staked them all but nothing was tall enough to tie up before). Some have a few green fruit, others have flowers, so maybe I will get a few tomatoes after all. The Roma type seem hardier than the others.
The sunflowers are starting to fall over! They are massive, with heads about 30 cm in diameter.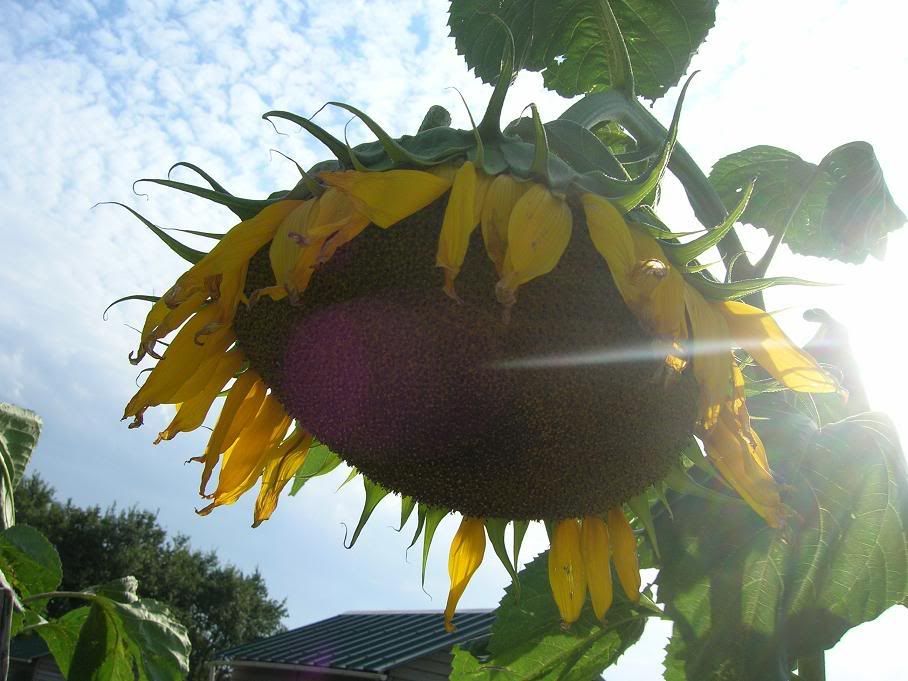 I am hoping to get some seeds!! I was told to do this; wait till the back of the flower heads start to go yellow. Cut off the head and put a paper bag over it and hang it somewhere dry and warm. The seeds will fall off as they mature. I thought I would keep a few for next year (they are a bit expensive!!), keep some for eating (good for the home made bread) and leave at least two heads on the lot for the birds and mice. I have already seen a little field mouse one day in among the leeks so I guess they must hibernate somewhere in winter. Maybe I should consider putting a little stack of dead grass etc in a corner just for them?
As I will be able to get to the garden a bit during the week, my priority is to dig out the useless garlic and dig over that plot and make my last sowings for August, namely late carrots (pppfff most of my crop has been useless but you never know), radish, beets, cut and come again lettuce and the first of the lamb's lettuce. That will be sown progressively over the next two months for a winter crop, with a bit of luck.
Labels: summer, sunflowers, tomatoes
Subscribe to Posts [Atom]