Tuesday, October 18, 2011
Summary of 2011
Neglect of the blog and somewhat of the garden although I am slowly turning it over for winter.
I harvested all the squash and now have to get them down to the cellar before my OH smashes them to bits with a hammer, because he will have tripped over them for the nth time.
I had the best harvest this year!
I had 6 Black Futsu (you can see two in this pic), 2 big Queensland Blue (There is one here giving a piggyback to a Black Futsu), and 2 other mysterious grey-blue pumpkins.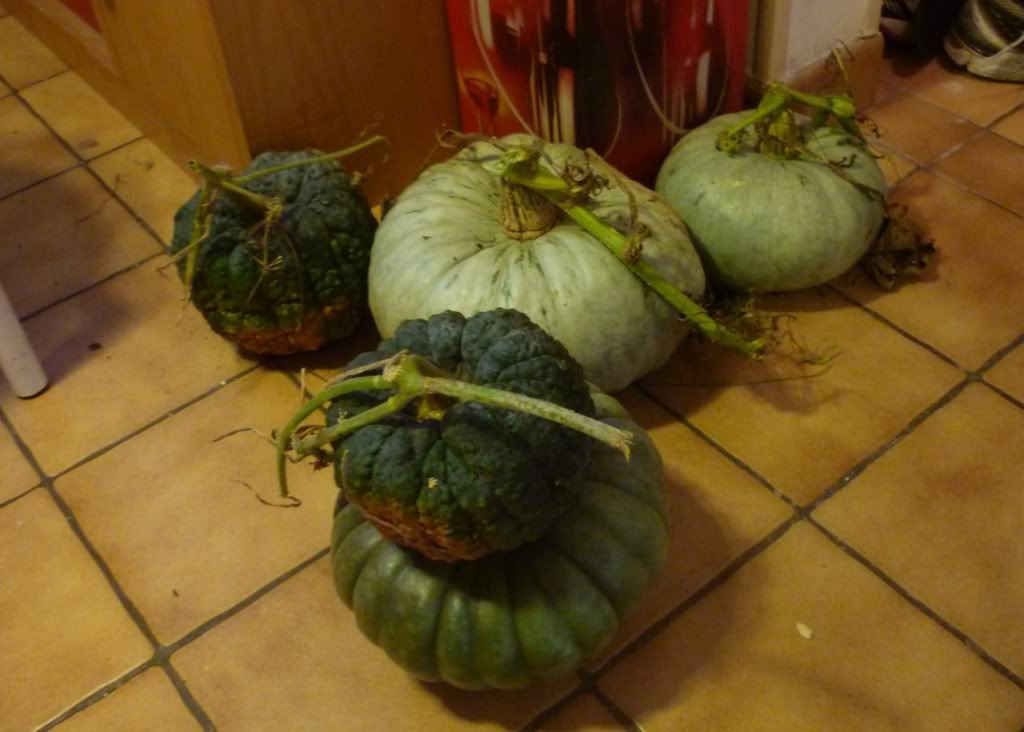 I also got a huge Atlantic Giant - 8.2 kg!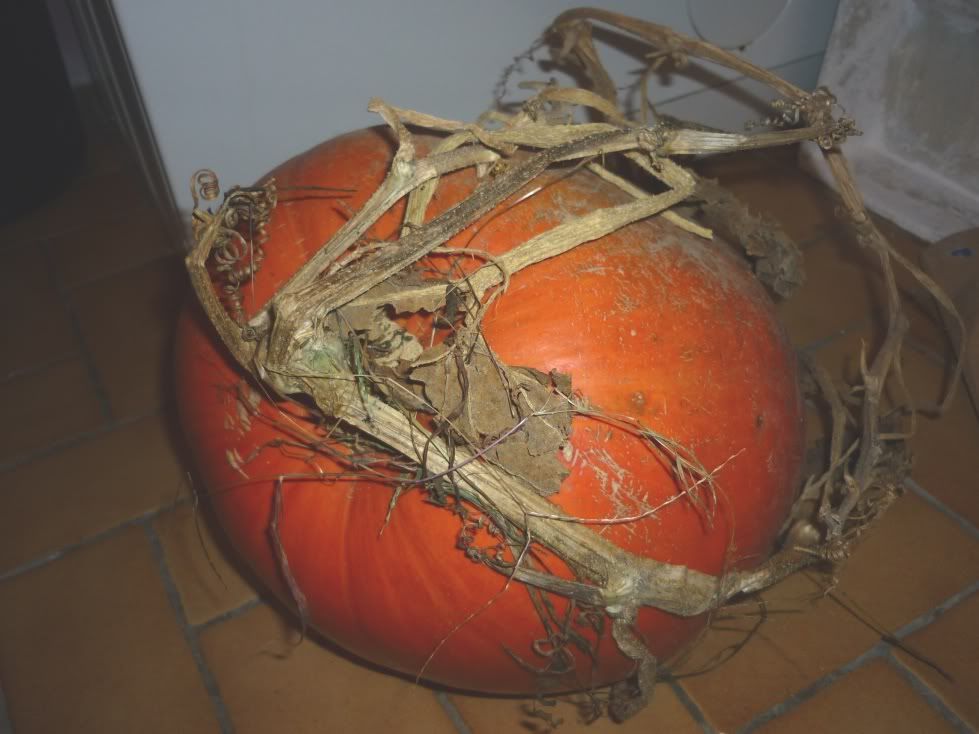 and there are 4 orange pumpkins (one got eaten before the pic was taken) - funny because I only planted Turk's Turban - the others appeared magically!
SO we will have pumpkin coming out of our ears, I predict! Good, pumpkin scones, muffins, flans, pumpkin fruit cake for Christmas! Yummy! But I guess I will have to give half away whenever I open some, most of them are well over 3 kilos!
Funnily enough the last two years the courgettes have been middling. The quantity was ok for me, but not what I would call a glut. I have trouble with the pattypan squash which is a shame because I like that a lot. It's been a bit cool for them, I feel they prefer the heat.
So the results of the growing season, now that everything is dying back?
Great garlic and onions. Reasonable potato harvest but it was a bit dry during their formative years... Good beans and peppers and excellent squash harvest. SO far the green cabbage and Brussels look good.
Lots of raspberries and gooseberries although the rasps tended to be squishy.
Excellent herbs and flowers (nasturtiums are all over the place now that the crops are out and we finally had beautiful lilies) and late rhubarb (had to restrain myself). Hopefully the baby artichokes will come into their own next year as they just put themselves in their places this season.
On the downside: tomato blight destroyed the crop, aubergines were crap, peas were not the best due to extended spring drought. Carrots failed to grow again and beets destroyed by voles. Good start to cucumbers but badly affected by powdery mildew).
On the whole it was a good year and I felt proud as I mostly kept on top of the tidyness factor. Maybe over time I am actually getting the better of the weeds?
Notes to self for 2012?
- Grow more cucumbers!
- Stop growing carrots!
- Find a way to keep the voles out of the beetroot.
- Grow herbs and salads in early spring and late summer.
- Go with the Rosabelle mid season spuds which were good.
- Grow kale and cabbage later. and try to grow broccoli and cauliflower again!
- Direct sow courgettes (esp those Striata d'Italia which were beaut!) but sow a couple in pots for earlier harvest.
- Grow only one cherry tomato plant and keep persisting with the heirloom varieties.
- Grow chillies and more sweet peppers! And take better care of the aubergines.
- Grow runner beans.
- Cut back the raspberries that are too unruly.
- Keep mulching and killing the weeds!
- Pat self on back for hard work put in.
Labels: autumn, harvest, planning, pumpkin
Comments:
Hi Wellywoman! Great pseudo! Yes they are Black Futsu, although actually I have noticed that in storage they take on an orange hue in some patches. They grow really easily, and I can't remember if 1 or 2 plants grew but I got 7 fruit (one got run over by a delivery truck on the allotment path!), each fruit is about a kilo. I definitely recommend them and will grow one again next year.
Post a Comment
Subscribe to Post Comments [Atom]
<< Home
Subscribe to Posts [Atom]