Monday, June 14, 2010
Pics for June 2010
Finally made it down there with a camera! So this will be a more cheerful post.
First let's have an overall look at the plot, from the onion and potato beds down. This is the lushest part I guess:
Looks like I need to weed it again! Along the side, I took advantage of the spare place to put in a few lettuces and some marguerites. They look nice. If it's warm this evening I will go down and hoe, just to tidy it a little.
The artichoke is finally getting some fruit on it (well, flowers, but let's not split hairs):
You can see that the self seeded marguerites next to it have gone beserk, but by September they will all have died. sad isn't it? Behind it you can see the rhubarb, and the little wild patch, where I grow mint, lavender, lemon balm, a rose bush etc.
Between the two is the carrot patch, a row of parsnips, a row of beetroot and the Brussel sprouts! But the artichoke is blocking the view!
On Saturday, I picked my first crop of peas. They were still dewy and fresh, we ate them for lunch and they were just perfect.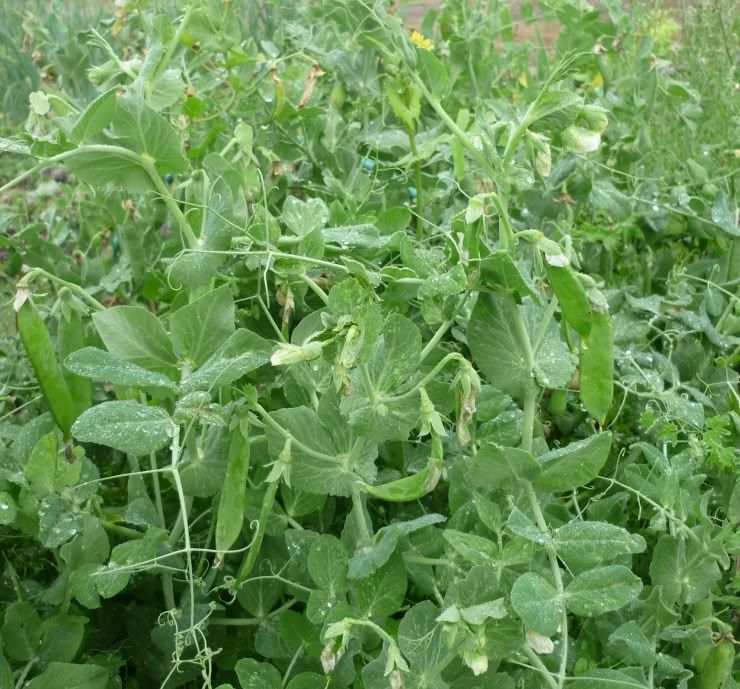 They are Kelvedon Wonder, sowed in March and April. So quite a fast cropper.
The fruit beds are always sweet at this time of year. I have not had so many strawberries, but all the plants are new, so I guess I have to be patient.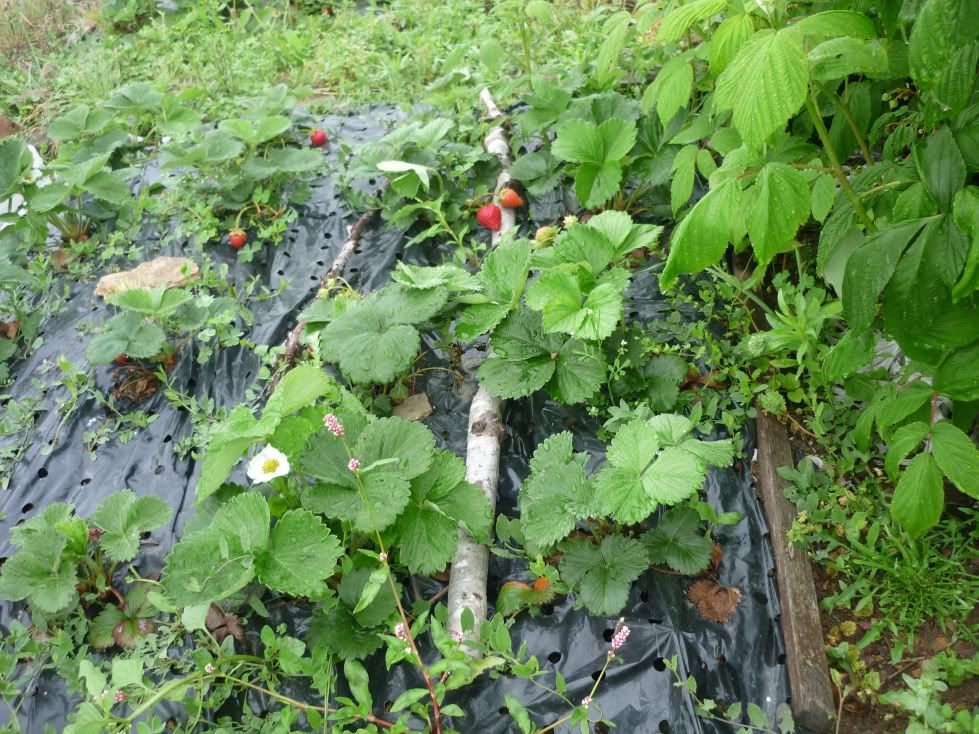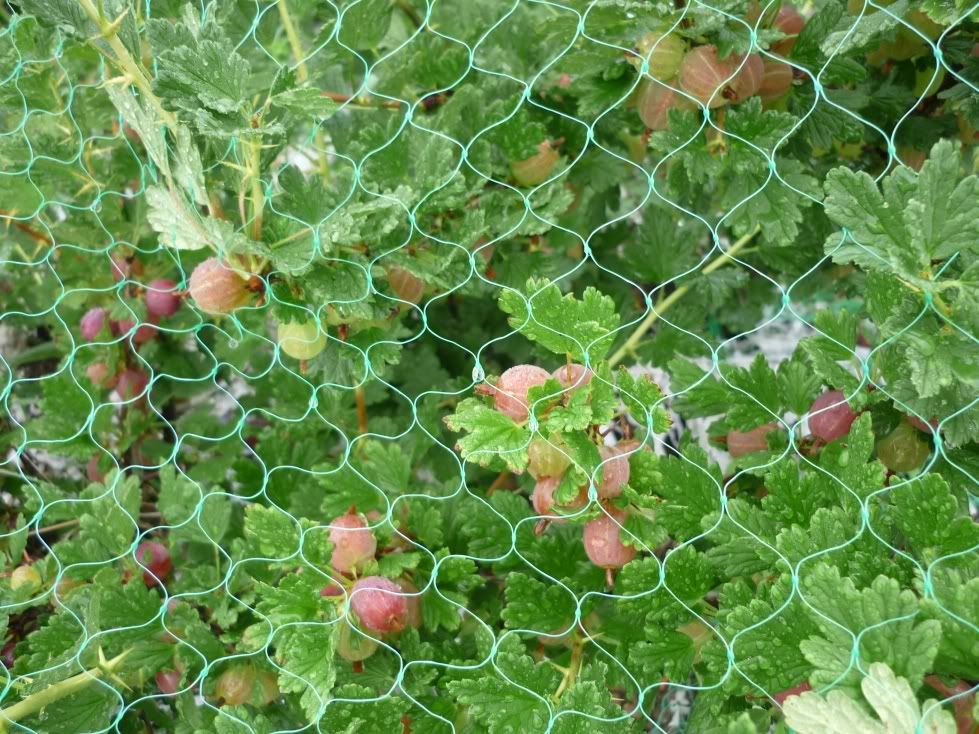 The gooseberries are ripening wondefully, I protected them with netting this year.
Squash and pumpkin is the crop of the year. The courgettes and pattypan squash have taken off well: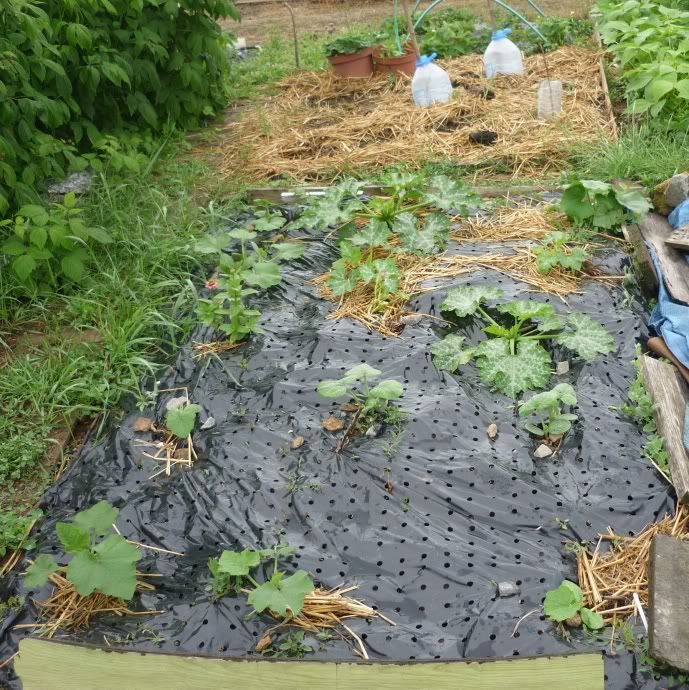 You can see the mass of straw behind that is the melon bed. The plants are not obvious yet but some have survived. Next year I will sow direct as that seems to give the best results with squash! Another new thing learned this year.
A Parador yellow courgette - soon it will have flowers and fruit.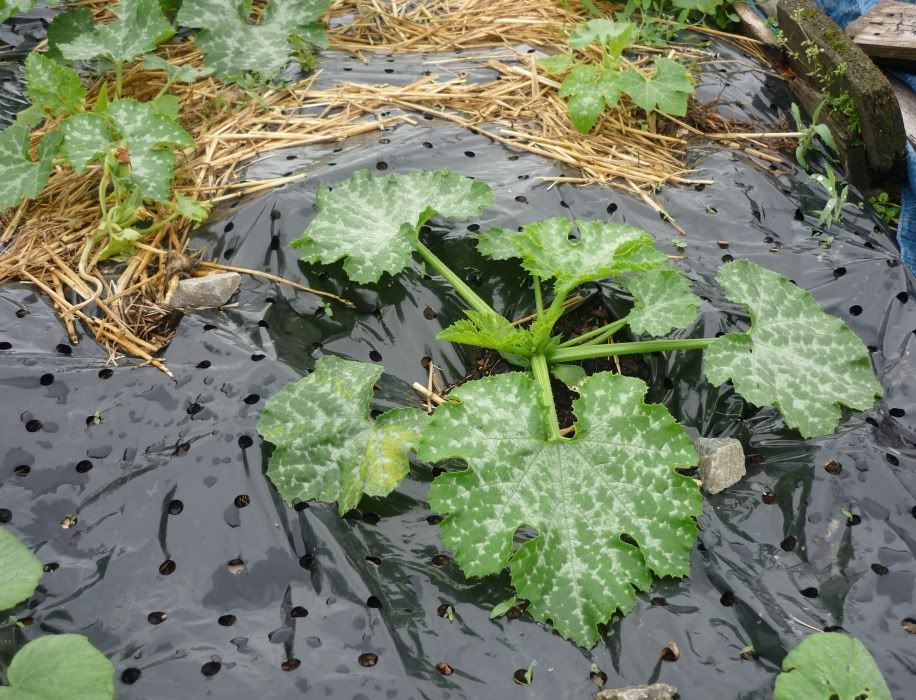 The 3 sisters bed is a bit of a mixed bag this year - 4 straggly corn plants! but the pumpkins seem to be enjoying themselves. Some old garden trellises behind will support the tiny Cobra beans that are just peeping through the ground. The beans are surrounding the squash this year, for easier picking.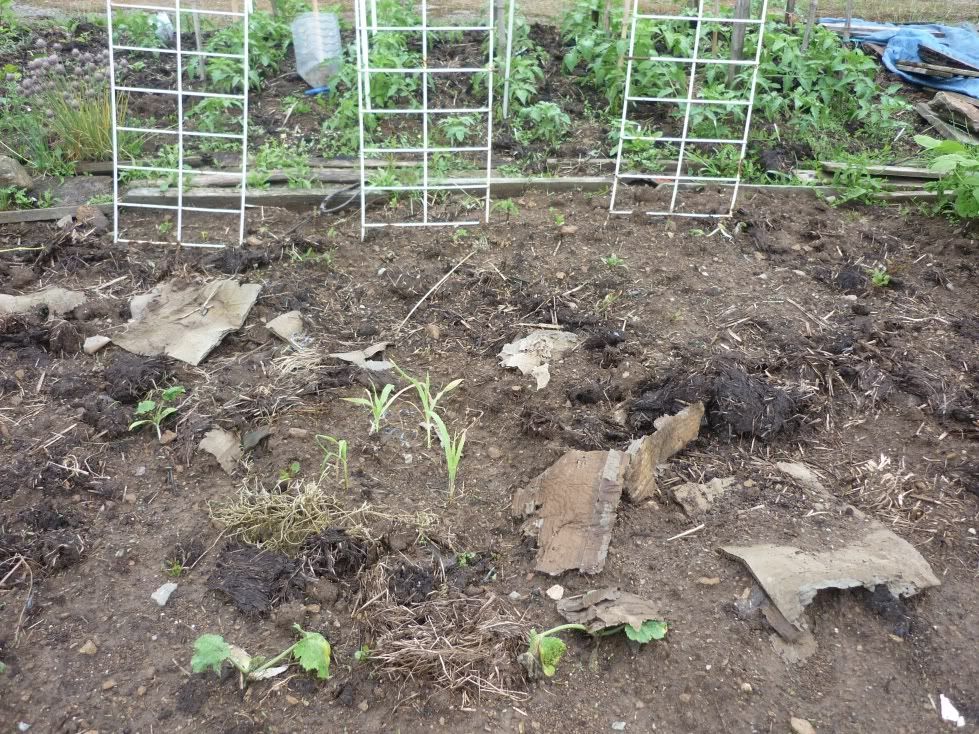 And finally, the tomatoes. You can see that they on a very rich patch of soil this year. They are growing on a load of manure. I hope to get a really good harvest this time! I am growing salad toms and some beefsteaks up the stakes, and along the back there are some bushy cherry tomatoes, Totem or Gardener's Delight. I didn't get a good cherry tomato last year, so I have put a lot of effort into that this time!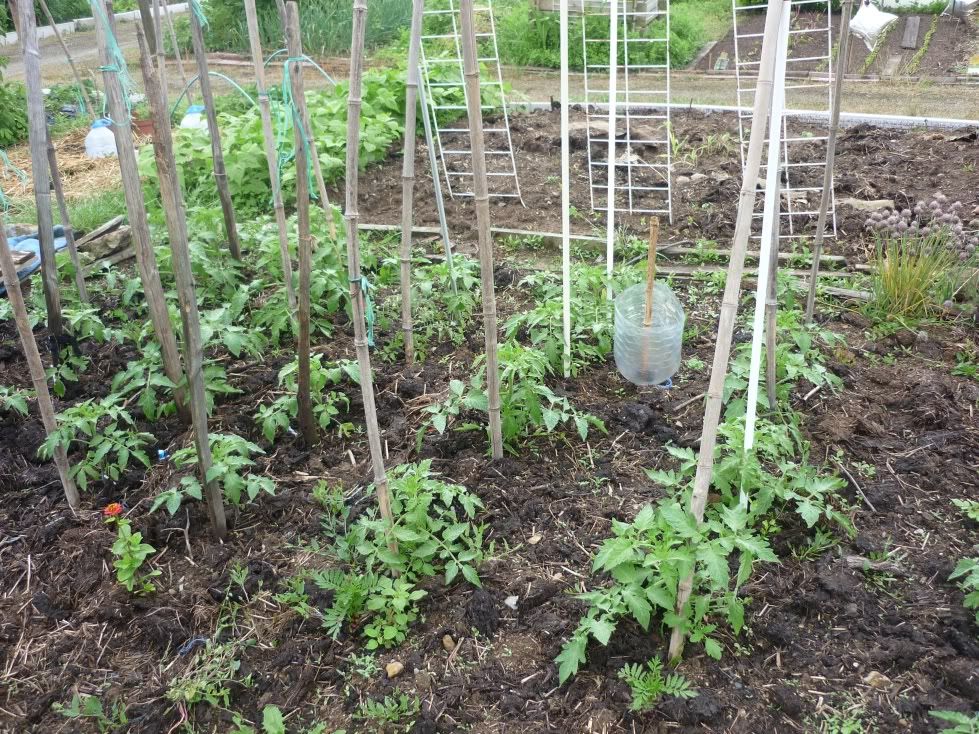 I hope you all enjoy seeing what the plot is looking like! I think this has been my most successful year so far, and now I have to concentrate on getting things ready for the autumn and winter crops (planting leeks and beetroot and caring for kale and oriental greens that I have just sown) and caring for the current plants (putting bordeaux mixture on the tomatoes and spuds, weeding and continuing to harvest).
Labels: courgette, fruit, onions, peas, spring, squash, tomatoes
Comments:
you're lucky for having this garden!
I wish our house has at least one esquare metre where to plant something. The damn city!
http://lovers-shore.blogspot.com/
Post a Comment
Subscribe to Post Comments [Atom]
<< Home
Subscribe to Posts [Atom]