Friday, March 05, 2010
Strawberries
Yes I want to plant some new strawberry plants this year as the others are starting to get a little tired. I have some Mara des Bois already and some Cijosé which are a nice juicy variety. These I will take out, and as advised by some kind forum users, I will pot some of them up, in a rich mixture, so I will stil have some strawberries from them this year, since the others might not give loads.
SO I popped off to teh hypermarket where they have their gardening sale on, and I bought 2 lots of ten plants, a bargain at less than 5 euros each. I now have 10 Cijosé again, and 10 Ramunda plants.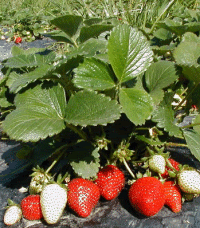 These varieties are described as:
Cijosé : created in 1997 at the CIREF, conical, shiny fruit, medium size (7 to 10 gr.), juicy, tender, full flavoured.
Rabunda : created in Holland in 1969, large fruit (12 to 15 g.), robust plant, disease resistant, tender sweet flesh, heat-resistant and highly productive variety.
Who can ask for more?
However I don't know when they can be planted, we are currently in another cold spell with heavy frost so I think they may have to wait under plastic for another 10 days or so...
Labels: strawberry, winter
Subscribe to Posts [Atom]