Tuesday, March 23, 2010
Finally some spring planting
On Saturday, I finally was able to do some serious work in the garden. It was long overdue! But the brown onions are in (and the ones I had planted two weeks earlier are starting to come up) as are the early potatoes, and I also redid the strawberry beds, making a square and a small bed with 20 new strawberry plants.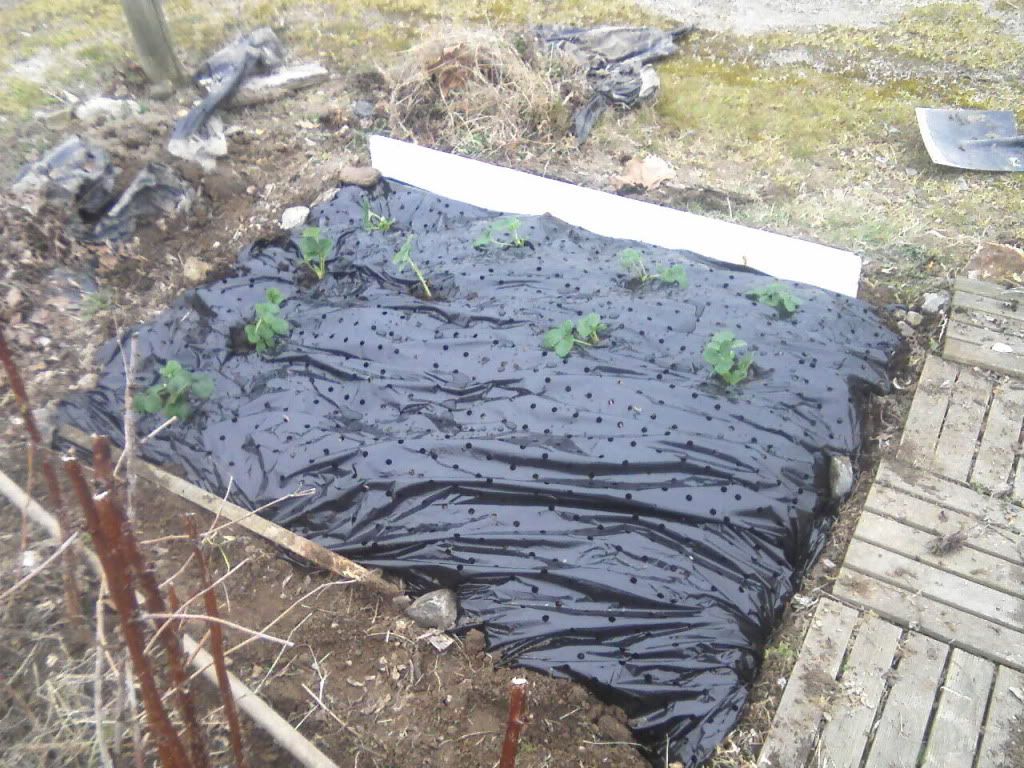 The old Mara des Bois went into pots sitting all round the allotment, so we will have plenty of fruit! Around the strawberry bed, there was some spare space, so I will sow some flowers in the coldframe that can go there later in the season and for now I sowed some onion sets, which are said to be good for strawberries, and some radishes, just to fill in the space, which got some manure while I was planting the strawbs.
I also sowed the first peas, and netted them, albeit not too well, so at least they can sprout without all being eaten. I dug in a lot of sand and sowed some first carrots (Nantaise). The tarp and cardboard has been moved to the bean bed, to stop too many weeds coming up.
To my delight, the rhubarb and artichoke are coming back, even after the bitterly cold winter we had. Daffodils are coming up in various places, a sure sign of spring.
I found my showerscreen! It had blown away in the storm, my neighbour found it. SO it went back on the makeshift cold frame, until I can get my new store-bought one assembled. The higgledy coldframe is now host to lettuce, leeks, spring onions, also carnations, pot marigolds, Tarragon.
Laid out like that it sounds a lot and took up most of my Saturday! But there is still so much left to do! Still the other potatoes (and the bed is filling rapidly!) and the red onions to plant, beetroot to sow, and a lot of manure still to distribute...
Labels: onions, peas, planting, potato, sow, spring, strawberry
Subscribe to Posts [Atom]