Wednesday, May 27, 2009
No storm damage
Well, a quick trip to the allotment this morning (mainly to empty my compost bin which was getting very smelly in the kitchen) revealed that the storms of the past few days had not caused any damage, but had certainly given the ground a good soaking!It seems to be a good time for rain, the potatoes are coming up champion. They will need a good coating of Bordeaux mixture though, as humidity is high.
My neighbour Raymond has something amusing on his lot: potatoes are growing out of his compost!! I took a pic of them because I must admit they seem a picture of good health!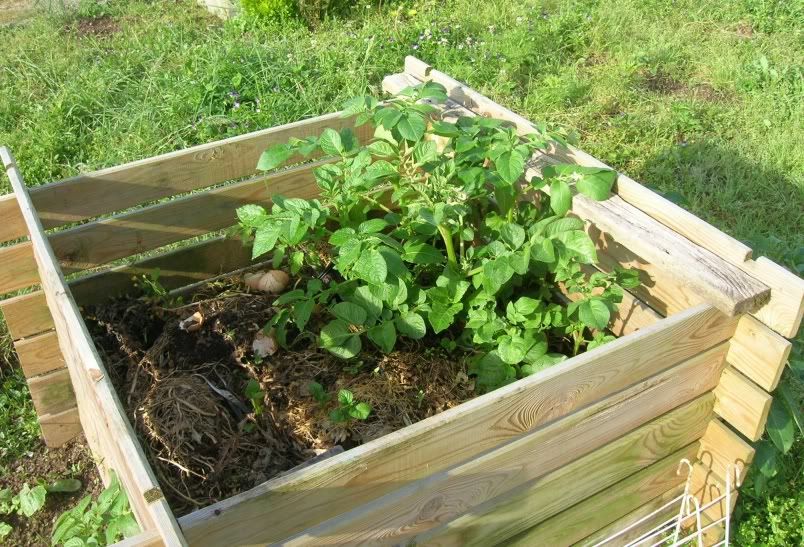 I also quickly planted 3 courgette plants that were getting a bit big for the kitchen, hopefully they will take off as the courgettes are very slow this year, last year I started harvesting in June but I can't see that happening now.
The strawberry plants have loads of ripe fruit too, so a quick trip will be needed on the way back from work I think, to get them before the magpies do!!
On the pic below you can see the Tomato and aubergine patch (the toms aren't quite all in yet, there is still a section to be dug and planted). They look a bit pathetic because the aubergines and peppers got badly storm damaged, but to my surprise they are growing new growth, and I bought in a few new plants so I hope that I will get some aubergines after all. This is my first year growing them.
Labels: courgette, potato, rain, spring
Subscribe to Posts [Atom]