Monday, July 07, 2008
Get it out, put it back in
That kind of summed up Saturday's efforts. It was a mixed batch between picking and planting!
For the picking, I came home with:
300g gooseberries, what looks like being the whole of this year's harvest (what happened to the 3-4kg per bush I had read about?) - I know how much it weighed because it went in a pie!
about 250g of strawberries and raspberries,
about a kilo of peas - I think this is about the lot for that plantation which dated from early spring. Still, we had three meals out of them so I can't complain.
the first summer cabbage,
2 fennel bulbs,
about 4 kilos of early spuds - that is the lot now so I am a wee bit disappointed by the yield, I thought there would be more from 25 seed potatoes! Perhaps next time I should cut them up and plant the potatoes in bits to increase the number of plants? Still, the flavour was there, tender and creamy and the skins just slip off.
half of the red onions. There too, disappointment, they started off quickly, maybe too quickly, I think they need planting later than the others. Lots bolted and they are very small. Still, we will eat them anyway.
A stray echalote. Much more promising, there were 5 echalots on the bulb and they smell wonderful. I have quite a few bulbs in so I will be right for echalote over the winter. The yellow onions too have not bolted and seem to be ripening well. I weeded them on Saturday.
5 nice sized yellow courgettes. I will do those again next year, beaut flavour, firm flesh, and best of all, you see the fruit straight away so picking is easy.
Our first 3 cherry tomatoes :-) There will be more from where that came from! The cherry tomatoes are loaded with flowers and green fruit.
Which gave me a nice little box a bit like this: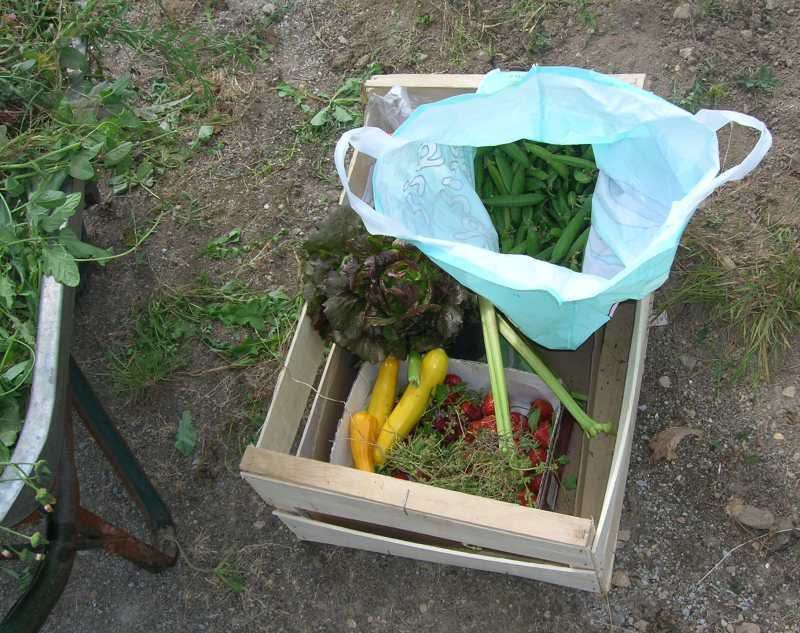 Now to get onto the hard yakka bit again.
Where the early spuds had been, I put in 12 celery plants. The ground was still cool and rich so I think they will do well there.
I shovelled over the red onion patch but it is not quite raked to a fine tilth! I want to put in some celeriac there, I bought 15 plug plants this weekend. I will also put the Brussel sprouts there are the ground is quite compact, having had just the onions in it, and the soil will not be too rich for the sprouts.
I did a bit of tidying up around the fruits, the carrots, the summer cabbage and the onions, pulled out another barrowful of weeds.
But on the whole, the plants are starting to take over from the weeds, the 3 sisters patch is doing remarkably well and the first pumpkins are appearing.
3 sisters plot:
A friend of mine who has a lovely tidy veggie patch showed me around his plot on Saturday, his carrots made me envious. He very kindly gave me some young plants, he had loads, a bit too many it turned out: batavia lettuces, some green cabbage (kale) and rather daringly, some Purple Sprouting Broccoli, my first attempt at growing that. He gave me so many, I hope I can give some to my neighbour who has been very kind to me. They tend not to grow that here so I will start a trend.
So lots of things to plant this week! Broccoli, winter cabbage, celeriac, some late spinach to sow (I will try it again, no luck last year but I think the conditions didn't suit it), lettuces (and of course not forgetting the leeks). But I think that once that is done I will have set up the plot for the autumn and winter harvest and I can concentrate on picking and keeping the plot tidy. It is looking very full now, the 3 sisters patch makes it look especially luxuriant. I will try to take soem pics this week for your viewing pleasure.
Labels: cabbage, celery, harvest, onions, peas, potato, summer, tomatoes
Subscribe to Posts [Atom]