Monday, January 07, 2008
Cabbages.
That seems to be an appropriate subject for January, as it is the only thing that will grow at this time of year :-D
This was Saturday's cabbage harvest: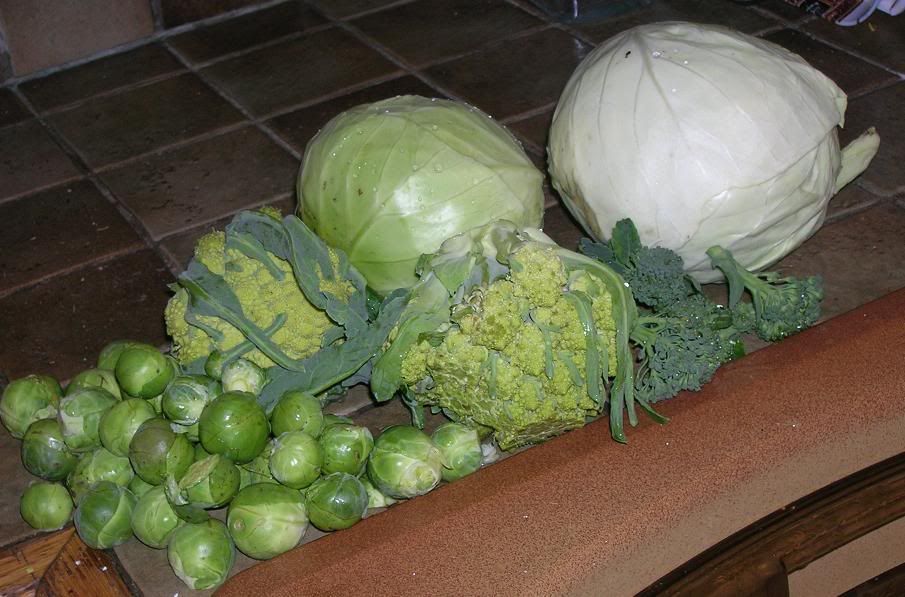 Brussel sprouts, the last of the Romanescos (they were delicious, made them into gratin), a few fleeting spears of broccoli and two cabbages
OK I admit that I have cleaned them all up a fair bit for the photo, producing this pile of waste (that will go piously onto the compost heap):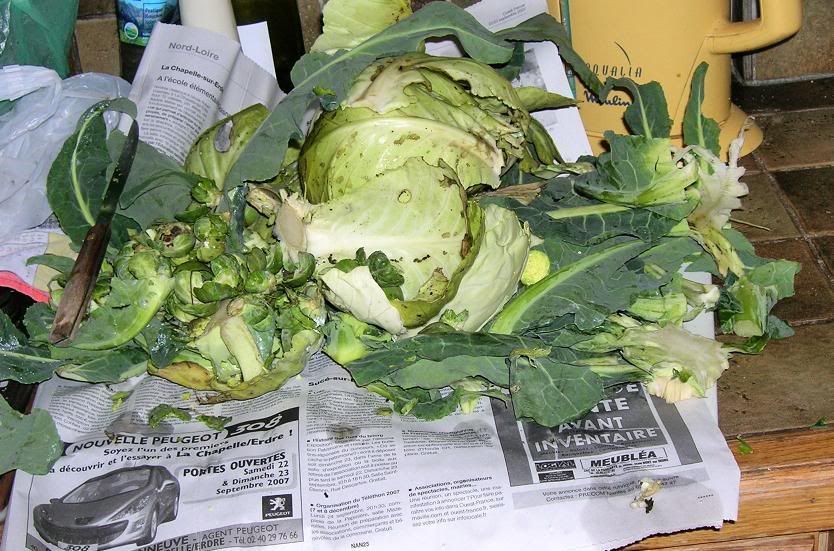 The other event of the weekend was the Great Horse Poo quest. In the weekend drizzle (well, ok it was pretty much rain but I had some time on my hands), the Small Ones and myself trotted off to the local pony club. They obligingly told me to help myself to as much as I wanted of the 3 TONNES of poo that is stacked up in a corner. Unfortunately I didn't make much of a dent in the pile, still we filled up 4 big black bin bags of the stuff, it was boiling hot and steaming!! The kids thought that hilarious and rather odd. To my surprise it weighed a bloody ton, so I asked to borrow a wheelbarrow which they didn't really appreciate. I will bring my little trolley next time.
It made quite a decent pile once we had taken it back to the lottie: if I can go and get the same amount again I will have enough for the areas where I will plant the spuds, onions, beans and tomatoes. Then a bit later I will go and make another pile for the courgettes, melons and pumpkins. Hopefully the soil will be much improved by my work, some green manure where I could, digging in the bean plants, leaf mulching large areas, and I should have some decent compost by the time spring comes too, which I will use mainly in the root veg, salad greens and flower areas.
Oh and I did manage to order some seeds from
DT Browns
but so far I can't get the online ordering to work at
AlanRomans
which is a real bugger, he has some great bargains. Mmm can't wait for my first seed packages to arrive!!!
Labels: cabbage, harvest, manure, seeds, sprouts, winter
Subscribe to Posts [Atom]