Thursday, March 01, 2007
Since seeing all the blossom on the trees I have been getting terribly excited about the prospect of spring!! So I was very pleased when my seed catalogue came through the post (with bonus offer of free postage, yippee).
This morning I slipped an envelope in the mail asking politely for: 3 gooseberry plants (mixed, there is a purple, a green and a yellow variety)), 15 Mara des Bois strawberry plants, 3 Heritage raspberry canes (at Smallest One's request, little does she know that I will hastily be putting a net over them for such marauders!), some Lombardia summer spinach, some early carrots and some late ones too for good measure, basil, and parsnips (Guernesey variety). And what's more I am told I will get a free pack of Sparaxis bulbs. Hmmm wot's that then?
Sparaxis
is apparently a South African native that is also called a Harlequin flower. They look quite pretty, a single petal but nice bright colours. Says they flower late spring early summer so maybe by June we might see what they look like. Oh well, I suppose I can chuck a few around the edges and a few more in a big pot and see what happens. If they like heat they might even do alright on the balcony. *thinks deeply* Experimental... Never look a gift horse in the mouth...
My seedlings are doing well, especially the peas! But I planted a few lettuces from an already opened packet and no sign of them, I think that one will go in the bin. Luckily my other "Fat Lazy Blonde" variety (no really, that's what they are called!!) seems to be sprouting happily. Maybe a few plants from the garden centre are in order so we might have some home grown lettuce before Christmas hee hee.
And I also have a lovely purple hyacinth in a little pot handpainted by Smallest One on the kitchen window sill. It smells divine.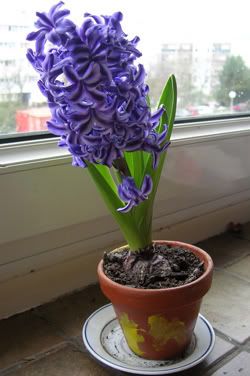 Labels: bulbs, buying, seedlings, seeds, spring
Subscribe to Posts [Atom]