Monday, March 05, 2007
Another weekend - Saturday was a nice day but impossible to get out gardening. I did however go down to the allotments because we had to elect a supervisor. Exactly what that person does is unclear. What is clear is that there is a large portion of the gardeners on our lot that go down there to drink several bevvies and smoke their Gauloises Brune while fannying around with a couple of sad looking cabbages. The meeting was held in our communal shed and the alcohol vapours in the air when I went in would have been enough to knock a large herbivore of its feet. To sum up, the guy that actually has the approval of most people does not want to stand again because of the hassle and the guy that is standing (and ended up being elected) is said to have "numerous good qualities" but is suspected of having pocketed over 300 euros that were amassed by unofficial (paying) drinking sessions!
A few negative issues were also brought up, namely that in the past people had been evicted from the allotments without any official consultation and that the waiting list had been corrupted and some people's mates were given a plot ahead of others. Since I was on the waiting list for 3 years I was a bit peeved to hear that.
When I saw the association secretary on Sunday, I mentioned all of this to her. She said she was staying on as secretary to keep an eye on the supervisor!! Crazy. Just remind me never to leave my handbag unattended...
On Sunday finally got to garden a bit, despite blustery weather. I bought a few more strawberry plants at the garden centre, a variety called Cijosée, which according to the web is similar to the Mara des Bois, has a "pretty conical fruit, bright red, shiny good presentation, fine juicy flesh of medium acidity". Well, we will see what it gives us. I got some black plastic down with the help of Smallest One and planted them in that. Of course once I got it all in, I realised that the rows were really not terribly straight. Oops.
Also put in a few sugar snap peas, once they come up I will put up some trellissing to help them on their way.
There are a lot of weeds again but I didn't have time to deal with most of them. Next week if it is fine, I want to start putting in the spuds and early carrots which will give me an opportunity to weed a big patch.
Pleased to see the garlic sprouting very well, the green tips are now about 8 to 10 cm high. The radishes I planted under plastic are also coming up, so in a couple of weeks we might have our first crop!!
Unbeknownst to SO I took some photos of my seedlings, he would wonder what the hell I was doing. Must download them soon. The peas are doing well: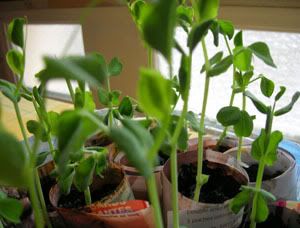 and the tomatoes are starting to get proper leaves:
The lettuces though seem all legs, very spindly, I don't know if that is normal?
Also did a bit of balcony gardening: a nice potted rosemary plant, I bought two primroses that are now hanging outside and I planted
some asters
(think it is a dwarf variety, it says 30 cm tall). Just now the balcony is full of purple crocuses that were hiding from last year, some pretty white hyacinths, and some orange and yellw tulips. To my surprise, some herbs from last year, mint and tarragon is starting to appear from the pots I had left outside in gay abandon. Surprising how things cling to life!
Labels: balcony, flowers, peas, planting, seedlings, strawberry
Subscribe to Posts [Atom]