Monday, February 12, 2007
Ah my God, what a waste of a week. I have been completely laid low with a very nasty form of the flu, I was weak as a kitten. And now I am stuck with a horrible cough and the grossest sinus congestion. I am literally blowing litres of mucus out of my nose. So the garden was mostly neglected for all of last week. However yesterday I managed to drag myself out there for a bit and survey the damage and remembered the camera this time so I did take some piccies.
The carpet pathways I had put down were blown about so I went and got some more wood to weigh them down, and also used some of my little metal pegs that I have been collecting and pushed those in to fix the carpet down. I do realize that the overall effect is pretty ugly, but for now it is just to give me a better idea of where to plant everything and not have to weed the paths as well as the planting areas. Today it is really really windy so I don't know if they will still be there next time I go down.
And I planted my first things!! Don't worry I do have photos for all these things but they are still in the camera, not the best place I admit. I will try and get them online tonight or tomorrow. I re-dug and raked over a square and put in my first garlic. So cute. It is a bit of an experiment, I will soon see if it grows well or not.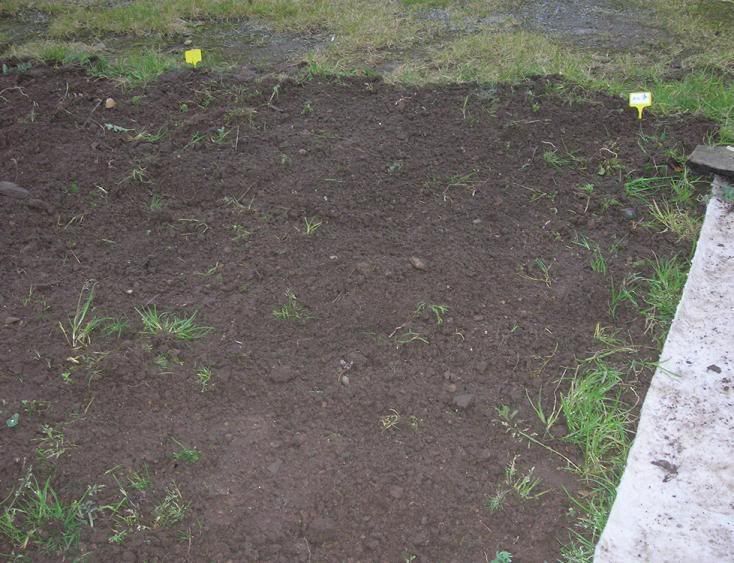 I did some more weeding and a bit of trench composting too, round where I will put the tomatoes, they won't be in for a while so that will give the ground plenty of time to eat up all that. I had two weeks' worth of vegetable scraps, so I dug a few big holes and down they went. The weed pile in the corner is also rotting quite nicely, I don't think I will use it as compost for months and months so I don't think it will propogate at all, there was no time for any seed production.
And there are also some tulips popping up here and there!! A nice surprise.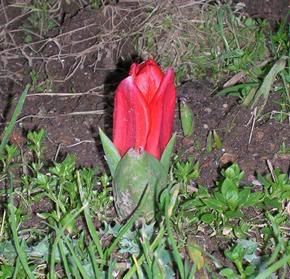 I managed to acquire some seeds and sets just before catching the flu. I bought two bags of spuds, some Sirtema which is a firm variety, an early producer and a Belle de Fontenany, another early with a nice flavour, a salad potato. Also got some plain brown onions. I will get some red ones from the garden centre at the end of the month. I still have the spuds that I dug up from the garden, they have all sprouted now so I think I will plant them quite soon. Don't know what they are, that remains highly experimental. In the way of seeds, I managed to get a few varieties of radishes (red and pink), some Marmande tomatoes, the big knobbly ones, some beans, green and yellow, some peas and also sugar snaps, some Colmar carrots, basil, parsley, coriander, gherkins and also a few varieties of flowers: sunflowers, nasturtium, some reine-marguerite daisies, some carnations. I have a few flower seeds knocking around at home too, so I will try them out. I will try a couple of zucchini/courgette plants but I will just buy two plants from the garden centre later on for that. I am wary of the zucchini, as experience tells me that if you don't pick them every day you end up with ridiculous marrow-like courgettes. But the tiny baby ones are so fresh and delicious that I know I will be tempted.
Now I just need to order from my catalogue web site the strawberries (Mara des Bois, yum yum), gooseberries, cherry tomatoes and parsnips. That will be for March methinks.
Labels: planting, seeds, winter
Subscribe to Posts [Atom]